The Daily Churn
March 5, 2021 | by Jaclyn Krymowski
Italian startup uses sensor technology to monitor farm conditions — including greenhouse gases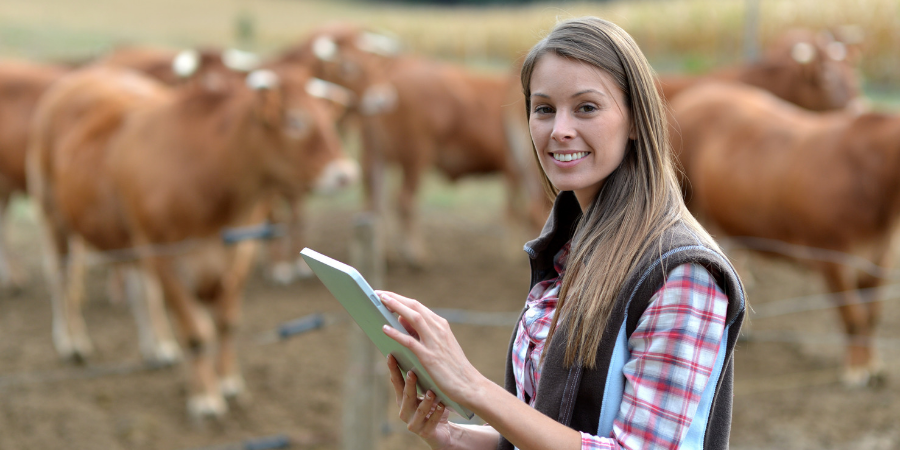 Three tech-savvy friends from Italy are using sensor technology to monitor environmental conditions on farms in real time.
Enrico Carta, Ambra Milani and Fabiana Surace set out in 2016 with this mission in Genova, culminating in 2017 with the launch of Cynomys, a startup that provides internet-of-things (IoT) style monitoring systems tracking everything from temperature and humidity to methane and carbon monoxide concentrations — from anywhere in the world.
When the co-founding trio first started out, Carta, the company's CEO, said they had no real experience in the livestock sector. Instead, they were motivated to find solutions that would help farmers reduce their operations' environmental footprint. To date, they have put their software and devices in the hands of farmers in six countries.
"We come from technical and scientific backgrounds. Our skills could be easily applied to the problem," he tells the Daily Churn. "We deeply researched and studied the market, then we listened to farmers and we saw an opportunity to help them."
As consumers become increasingly concerned with how their food and products are made, the Cynomys team believes they can help farmers enhance their sustainability and animal welfare goals through data.
Knowledge is power
"In short, says Carta, we know that 'if it cannot be measured, it cannot be managed, so we give farmers a way to measure it all."
So what, exactly, can they measure?
Turns out, a lot of things. Carta explains that their advanced sensor technology allows farmers access to their greenhouse gas emissions output anytime and anywhere, allowing prompt action to correct protocols – like inefficient feeding or manure storage – that under-perform goals preset in the cloud-based software.
This extends to animal welfare and comfort as well, according to Milani, the startup's international relations manager. With a virtual dashboard and regular system reports that are available monthly, weekly or annually depending on each farmer's preference, management can be improved as needed.
"Consider what a significant effect on calves' health," says Milan, "(there would be) to measure ammonia in the building while collecting slurry from the manure tank."
But what they're most proud of is that they can help farmers deploy cutting-edge technology in a simplistic way.
Simple, but effective
"All this is thanks to a single, self-contained device that does not need complex installation or any infrastructure modification in the barn," says Carta. "In fact, most of the time farmers do not even need our help to deploy our devices."
After the monitoring devices are installed on-farm, the sensors will immediately collect environmental data and wirelessly send it to computers and smartphones.
"Farmers always have our data at hand," says Milani. "(And) they know that if at any moment any of the measured parameters goes out of range, they will be promptly alerted."
How exactly is this all possible from a single device? Carta says they combine machine learning that can predict critical situations in the barn with expert input from veterinarians, animal nutritionists and building technologists to advise farmers on the best ways to respond to certain situations.
If the manure handling system becomes dysfunctional, for example, Cynomys technology will immediately detect higher concentrations of greenhouse gases and send an alert to the producer's phone.
But some farmers may be jittery about handing over their data.
Privacy concerns
As the world grows more dependent on technology, some agriculturalists are concerned about cyber security and privacy, according to a white paper by the University of Wisconsin-Madison's Jahn Research Group.
"Without appropriate cyber security measures," said the authors, "malicious actors targeting livestock health data could seriously disrupt management and transportation protocol and spur a cascading animal health event."
But Carta is confident their security systems mitigate these issues for wary farmers.
"Our farmers' data is hosted on our secured cloud platform," he says, "and is blockchain protected to ensure no tampering could ever happen."
Leading by example
Their technology's benefits also extend to a producer's finances, says Carta, who notes that healthier animals are also more productive. But their commitment to best environmental practices extends beyond the farm.
Not only do they plant a tree that will absorb CO2 and help local farming communities for every device sold, but they also use either biodegradable or recyclable packaging.
Plus, the power used in manufacturing is derived from certified sources, including a biomass plant.
Surace, the key account manager, says she and her colleagues believe that environmental and social gains take place when businesses like theirs lead by example.
"The added value of improved sustainability is what we offer to our farmers too," Surace says. "We wisely choose our suppliers and constantly strive to do better."
And, thanks to events like the Animal AgTech Summit, Milani says they have the perfect opportunity to find investors and partners to help them continually improve their technology.
Moving forward
In the future, Milani says they want to grow their partnerships at all levels of the supply chain and expand beyond Europe to North, Central and South America.
"We intend to become the livestock sector's benchmark for environmental and animal welfare monitoring."
:: Images via The Daily Churn and Cynomys