The Daily Churn
November 13, 2019 | by Tafline Laylin
Dairy turns cow poop into biodegradable packaging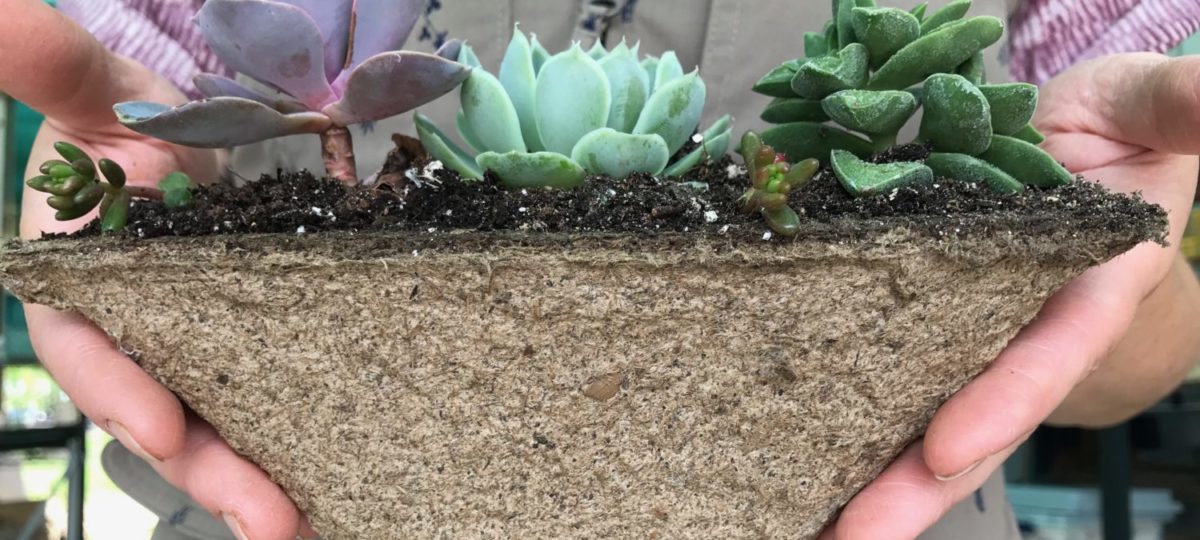 Freund Farm has added value to their farm's cow manure by turning it into biodegradable, compostable packaging
Yes, this packaging really is made from cow manure. Recently unveiled at the PACK EXPO in Las Vegas, CowPots Packaging corners are reportedly as strong and protective as the fiberboard typically used to ship frames and other delicate goods. They are also 100 percent biodegradable and compostable.
Matthew Freund first started experimenting with manure over 20 years ago in Connecticut as a way to mitigate the environmental impact of his family's dairy. Thomas Morris, a retired soil scientist who worked with farmers for the University of Connecticut Extension at the time, says people had just started becoming aware of phosphorous buildups on dairies.
With help from government grants, Morris supported Freund's Farm Inc. as they developed safe and compostable manure plant pots. "They're the leaders in the Northeast in trying to figure out ways to produce milk with the least environmental footprint," Morris says of the Freund family. The resulting CowPots became quite popular, even earning a feature on Dirty Jobs with Mike Rowe. Today, they are a hit with horticulturalists.
Magical manure
Rich Morris, owner of  Toadflax Nursery in New York, recently received a research permit from his state to grow hemp. He raved about the roughly 6,000 CowPots he used to plant his seeds this year. "You start to see the hair roots in a matter of weeks," he says. "That's unheard of. It's magical. And the earthworms love them."
While Morris is new to CowPots, Nancy Livensparger, a self-described "organic farmher and herbalist" in Connecticut, has been a loyal customer for over five years. She uses the nutrient-dense forms to up-pot herbs and vegetables for her 23-member CSA, and loves being able to put them straight into the ground—no plastic necessary. "We're zero waste," she adds.
Still, despite people like Morris, Livensparger and other customers around the world, the family decided it was time to diversify, according to 35-year-old Amanda Freund. She says that although CowPots made it financially feasible for her to return to the dairy after a stint with the Peace Corps (she handles marketing and feeds cows, among other chores), expansion of the business is currently limited by the growing season.
"It's very seasonal," she says. "People are really only looking for a seed-starting or transplant pot from January to May, [but] our cows are providing us with manure every day of the year."
The Vegas debut
So, her father Matthew, 62, set out to devise another use for their material, settling on the new packaging that made its debut in September — made with the same process as the original CowPots. Manure first goes through a machine that separates the solids and liquid. From there it goes through a digester that siphons off methane used to make biogas for the farm. Then the manure is composted, during which process all harmful pathogens are removed.
Amanda says it takes some persuasion to get people to think of "poop" as a "material," but the Freunds are convinced they are offering a viable alternative to some of the other packaging materials on the market. Not only does their farm benefit by adding value to a byproduct, she adds, but the end user benefits by having a renewable packaging material that doesn't have to go through the recycling system.
"You can literally throw it out into your front yard, and as it breaks down, it's providing a soil amendment."
Thomas Morris, the retired UConn scientist, says there's no question about the material's soil benefits. Although some nitrogen is probably lost during the composting process, he says, "you're taking the manure fibers and nutrients from the manure and putting them in the soil." They also disintegrate a lot better than comparable products like peat, he adds.
Research conducted in 2015 by the Mississippi Agricultural Forestry and Experiment Station found that CowPots break down up to four times as quickly as similar products on the market. And you can feel good about their source, according to Jonathan Cohen, president of Summit Responsible Solutions.
Powered by poo
A distributor of  CowPots Packaging and CowPots seed-starting pots, Summit Responsible Solutions notes in a press release that the materials are produced in a zero-waste facility powered by both biogas and solar energy. Cohen adds that any company using CowPots Packaging "can reap the benefits of appealing to customers who care about sustainability and the environment."
Concerned about safety? That's covered, too. The Food and Drug Administration has given the green light for both the pots and packaging to be used as "secondary packaging" for food items, and the USDA has certified the material safe for shipping to the European Union.
Albeit promising, it's still early days for the new packaging corners. But Amanda says they are ready to expand. While they built their own dies for prototyping in-house (dairy farmers are notoriously self-sufficient), they will invest in the appropriate tooling for mass production if the orders come through.
Lastly, in case you're wondering: in the words of Mike Rowe, "they don't even stink a little."
All images via CowPots