The Daily Churn
October 4, 2019 | by Tafline Laylin
Giant pumpkin grown with cow manure clocks 1,679 pounds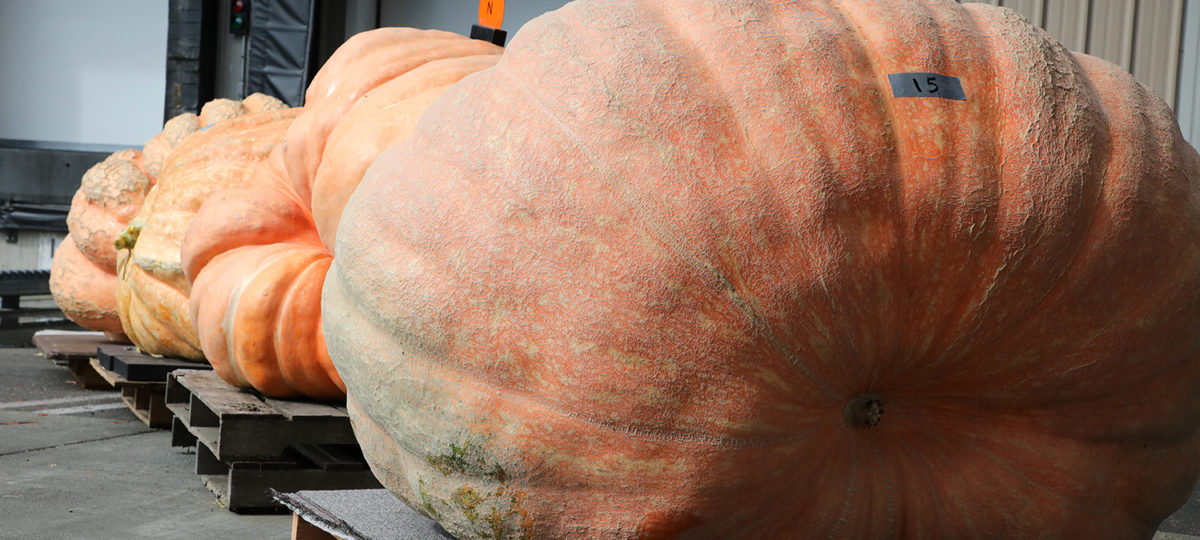 Growing giant pumpkins is an art, and Joel Holland is a master. The Washington-based grower has won all five of Elysian Brewing Company's Great Pumpkin Weigh-Offs (GPWO), including the most recent event held September 28, 2019 on Airport Way in Seattle. This year's winning pumpkin, #15 pictured above, clocked 1,679 pounds. And the part we love? It got a boost from cow manure.
Scarecrow's Pride
Holland, who started growing giant pumpkins in the early 1970s with his twin daughters Shannon and Shawn, says he has been buying Scarecrow's Pride from Leann Krainick for approximately seven years. Krainick and her husband Mike make the local product from recycled cow manure they harvest at Krainick Dairy in Enumclaw, Wash., where it spends three days rotating in a giant composter, called a BeddingMaster, at a temperature of 150º to 160ºF. This process allows beneficial aerobic bacteria to proliferate and eliminates harmful pathogens.
The resulting soil amendment — registered for use in organic agriculture by the Washington Department of Agriculture — adds essential organic matter to the field, gives the soil good texture and allows the pumpkin's roots to penetrate easily, says 70-year-old Holland. "It's an important part of the overall story."
He's referring of course to the story that connects Elysian, the Krainicks and Holland (along with other pumpkin growers).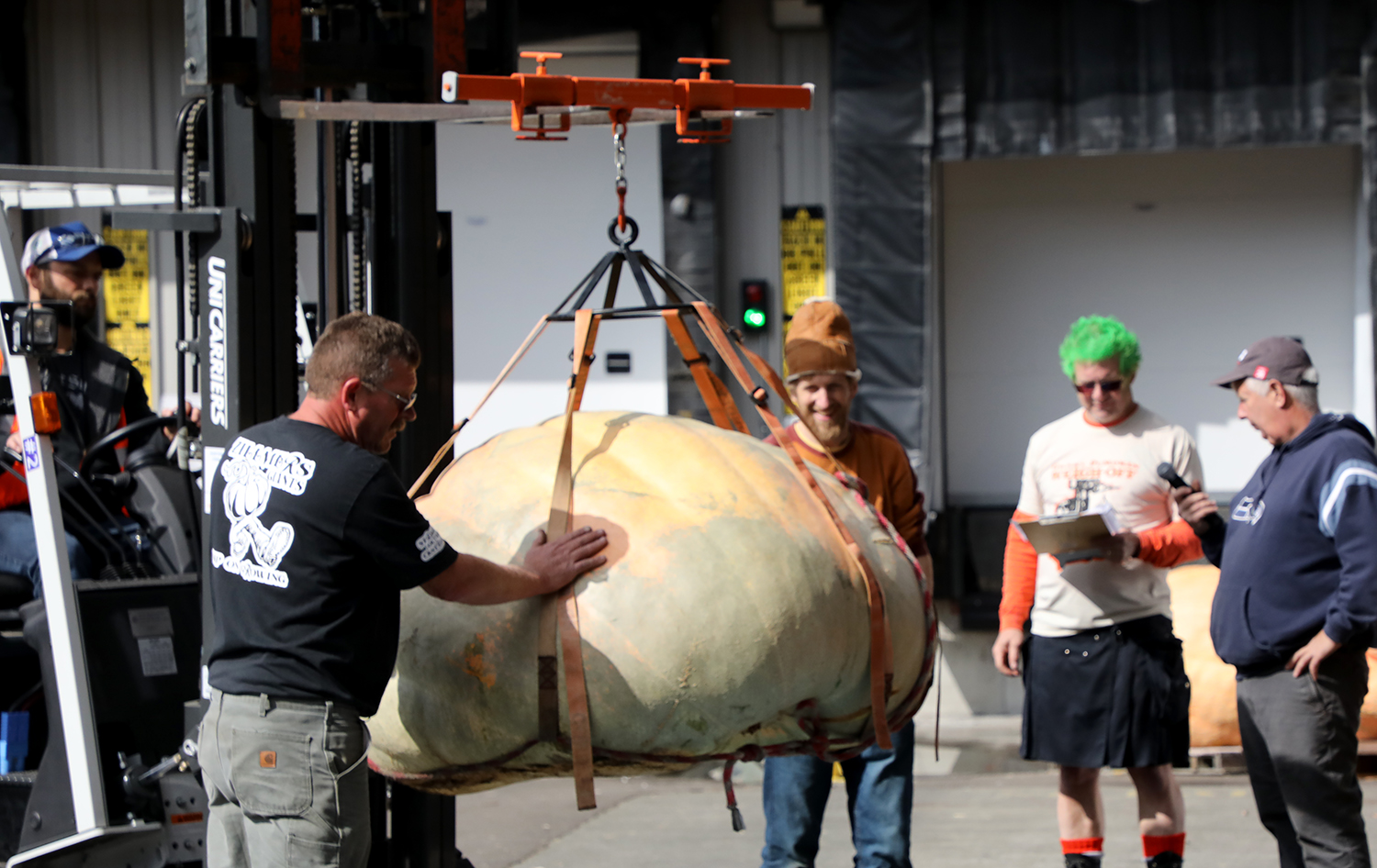 Each pumpkin at the weigh-off is tagged and weighed — and then judged in half-pound increments.
Closed-loop recycling
Since 2009, the Krainicks have been feeding the brewery's spent grain to their cows, which turn it (and other feed) into manure. That manure is then processed into compost that's used to grow the giant pumpkins. Leann says Krainick Dairy hauls away roughly two million pounds of wet spent grain and yeast from Elysian each year, and that half of this year's top-10 GPWO participants used Scarecrow's Pride.
But the cycle doesn't end there. While some of the largest pumpkins are put on display or carved, two of them are filled with beer for the Annual Great Pumpkin Beer Festival. Now in its 15th year and held at the Seattle Center, the festival attracts thousands of festive Seattleites, with 100 percent of proceeds used to support the world-class Fred Hutchinson Cancer Research Center.
"The pumpkins have grown with the festival," says Elysian's Dan Beyer, "the guy who always fills the pumpkins with beer."
The first pumpkin they filled as an experiment only held about five gallons of beer, he told us at GPWO. "We thought the thing was gonna explode or something."
But it didn't, so Dan says they decided to fill a bigger one for their first pumpkin beer festival. It was a hit and became tradition, but their early cucurbits were babies compared to today's. So, in 2014 when Leann showed the folks at Elysian a photo of that year's winning giant pumpkin at the Washington State Fair (grown in part with Scarecrow's Pride), they wanted in on the action.
How GPWO was born
But you can't just go buy a giant pumpkin, says Leann. It's better to sponsor a weigh-off. So, she started working with the Pacific Northwest Giant Pumpkin Growers (PNWGPG) to recruit members to provide Elysian with a reliable source of enormous pumpkins to fill with beer.
Now, every year — a week before the beer festival — growers will truck in the fruit of their respective pumpkin vines to compete for $6,500 in prize money. First place gets $2,000, second gets $1,250 and $1,000 goes to third place. The remaining monies are typically split between two more competitors. The top five pumpkins are then either carved, tapped or kept for display at the beer festival (and later at Krainick Dairy).
Leann says that Jim Sherwood's 1347-pound pumpkin and Brett Cooper's 1309.5-pound pumpkin — both grown in Oregon — will be filled with Curse Hearse Saison Pumpkin Beer for the beer fest.
As for Holland, he doesn't typically attend the festival. "Something always comes up," he says. Nor is this the biggest pumpkin he's grown. In 2017, he broke the US record for largest pumpkin ever grown in America with a 2,363-pound monster. That earned him and the pumpkin a trip to New York City, where he appeared on the talk show Live with Kelly and Ryan.
"It's something I enjoy and have a natural talent for," he says of his hobby, adding: "I'm thankful for the Krainicks and all they do for the pumpkin-growing community."