The Daily Churn
November 23, 2020 | by Georgie Smith
Sacred Cow: Nutritionist Diana Rodgers makes the case for livestock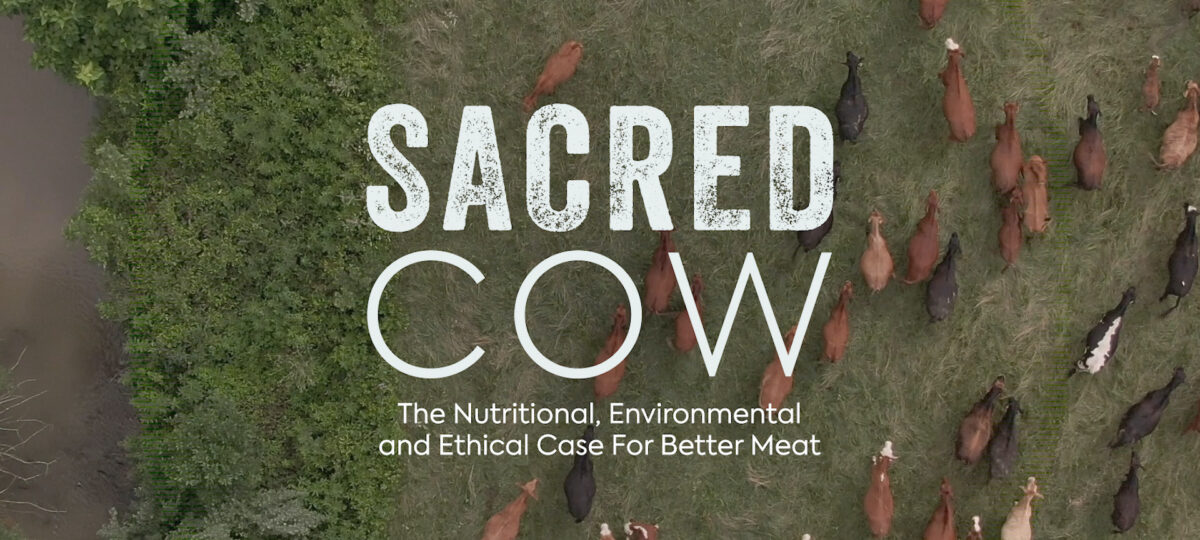 Ask Diana Rodgers, a dietitian nutritionist, author and long-time farmer, the secret to a humane and planet-healthy diet and she has a simple, two-word answer: Eat meat.
Humans need to eat meat and other animal-based products like dairy for the sake of good nutrition and environmentally-sound agricultural practices, she argues. And consuming animal-based products is not unethical. In fact, in her view, it is unethical to argue otherwise.
Rodgers, 47, is the director and producer of a new movie, "Sacred Cow" released for a limited, week-long free preview yesterday, Nov. 22. The film makes the case for raising livestock, especially cattle, and consuming meat and other animal-based products. She hopes it will help people begin to question anti-livestock assumptions prevalent in marketing, social media and news sources.
"People have lost their ability to critically think and see nuance. The anti-meat messaging is just assumed to be accurate," Rodgers told the Daily Churn. "That is what a sacred cow is, something that unreasonably held above criticism."
The movie is a complement to her book of the same name, released July 2020. She co-wrote the book with Robb Wolf, author of the New York Times best-selling book Paleo Nation.
Approximately 5% of Americans are vegetarians, unchanged since 2012, according to a 2018 Gallup poll. And 3% of Americans are vegans, a 1% increase since 2012. But purchases of plant-based meat alternatives grew 29% in two years, according to a March 2019 Good Food Institute Report. That trend was even further accelerated by the Covid-19 pandemic, spiking as high as a 454 percent increase.
The environmental case for livestock
The rise in plant-based meat purchases and messaging has alarmed the livestock industry, animal scientists and pro-meat dietitians like Rodgers who worry that the benefits of raising and consuming livestock will be lost in a chorus of anti-meat propaganda.
An August 2020 Daily Churn profile of UC Davis animal livestock professor and greenhouse gas expert Frank Mitloehner, Ph.D., makes the environmental argument for cattle and ruminant production in the face of climate change. Mitloehner is featured in Rodgers' film.
Despite sometimes feeling like a "lone wolf" fighting an avalanche of attacks against livestock production, Rodgers' work is garnering a following. Through her podcast Sustainable Dish, ongoing speaking events and multiple social media channels, she has built up more than 13,000 followers on Twitter and 25,000 on her Facebook page.
"I get a lot of crap for what I say, so I understand why nobody wants to tangle with this debate," Rodgers says. "But somebody has to. There are no dieticians that really have their head wrapped around the environmental case for meat and sustainability."
But amongst those who have embraced the anti-meat movement, the case against livestock is obvious.
Pushing back
Big-name Hollywood stars like Joaquin Phoenix quantify eating meat as amoral, calling it "barbaric" and "absurd" and attacked dairy in a controversial speech at the February 2020 Oscars awards ceremony.
Anti-meat dietary guidance, like the Eat-Lancet Commission's "planetary health diet," argue that a drastic reduction in the consumption of animal-products, especially red meat, is critical for fighting climate change, arguing that livestock production is more harmful than crop production.
And nutritional studies like a February 2020 study published in JAMA International Medicine raise concerns that people who consume more red and processed meat have an increased risk of heart disease and death.
Rodgers pushes back against all of that and organizes her book (and the movie) into the ethical, environmental and nutritional arguments in favor of eating livestock products. She chose to focus on cattle, as the "most vilified of all the livestock," compared to other types of animal products.
"(Consumers think) chicken is okay, it's white. But red meat reminds people of blood, and cows look more like pets," Rodgers says. "Cows have become the most polarizing food topic today."
Rodgers says nutritional education has become reductionist, focused on just vitamins and minerals and resulting in a school of thought that "ended up with thinking processed food is healthy."
Plus, she adds, much of the information is biased by the author's own dietary cultural beliefs but published without the author's declaring their own personal diet philosophies.
Concerns over killing animals for meat ignores the reality that any type of food production will result in the death of animals at some point, she says. Not only that, but Rodgers says arguing against meat consumption for developing nations with populations already struggling with malnutrition is unethical and "elitist" since animal-sourced foods provide key nutrients that are particularly important for children and women.
"It is really dangerous, especially for girls, to become vegan," Rodgers says, pointing to incidents of hair loss and cessation of menstruation she has seen in her nutritional practice.
Educating young people
Educating young people is a big reason she has been committed to producing the film, a project she began in 2017. And now she is pursuing funding avenues to show the film in schools as a counterpoint to anti-meat films already circulating in classrooms.
Her own son — she is the mother of a 14 and 16-year-old — pushed back against his science teacher who played an anti-meat film. Rodgers says he stood up and "regurgitated" her messaging.
"That was fantastic," she says. "I didn't even know he was paying attention."
Fellow advocates speaking out for well-managed cow production, like Judith Schwartz, a well-known environmental writer featured in the film and author of Cows Save the Planet, say that Rodgers' voice is important at a time when people have become disconnected from the land and food production.
"Our desire in a complex world to have something all good or all bad is really interfering with our ability to make good decisions for our own landscapes and our own bodies," Schwartz says. Others, like Rodgers, learn the hard way, through personal health journeys.
Health struggles
Growing up, Rodgers struggled with her health, she explains on her website. Originally diagnosed with lactose intolerance and told to cut out dairy, she often felt weak and unwell. In her mid-20s, she was diagnosed with celiac disease and started eating gluten-free. But she still felt poorly and was diagnosed with gestational diabetes during her first pregnancy.
Eventually she began re-introducing whole foods, animal proteins and fats — for the sake of her own health and her children's. She credits reading her co-author Wolf's book on a Paleo diet for cementing a move back to an animal-based diet.
In the meantime, she was pursuing a life-long love of small-scale, sustainable, organic farming that started with summer jobs on Long Island farms as a teenager "making $8 bucks an hour," ultimately spending 18 years running vegetable and livestock production farms.
"Animal foods are healthy, period."
Ironically, Rodgers says, because she has first-hand experience with the reality of small-scale food production yet believes meat is critical to human nutrition, she has at times been at odds with others in the sustainable food production movement.
"There are very few people that are 100 percent on board with my message," she says.
For instance, though Rodgers promotes grazing ruminants as a tool to reverse desertification and improve soil health —an idea first made mainstream by Allan Savory and the Savory Institute — from a nutritional perspective, she says even conventionally-raised livestock such as corn-finished beef are important for diets when grass-raised products are unavailable.
"The reality is animal foods are healthy, period," Rodgers says. "If somebody doesn't have access to the most pure, unicorn-grazed, perfect regenerative meat, they should still buy meat. It's still important for human health."
The Sacred Cow is being released with a limited, free viewing option over the Thanksgiving week. It will be available this winter on more mainstream platforms not announced at the time of this article.
:: All images courtesy Diana Rodgers