The Daily Churn
February 28, 2020 | by Lacy Cooke
Iowa dairy lets visitors 'sleep with the cows'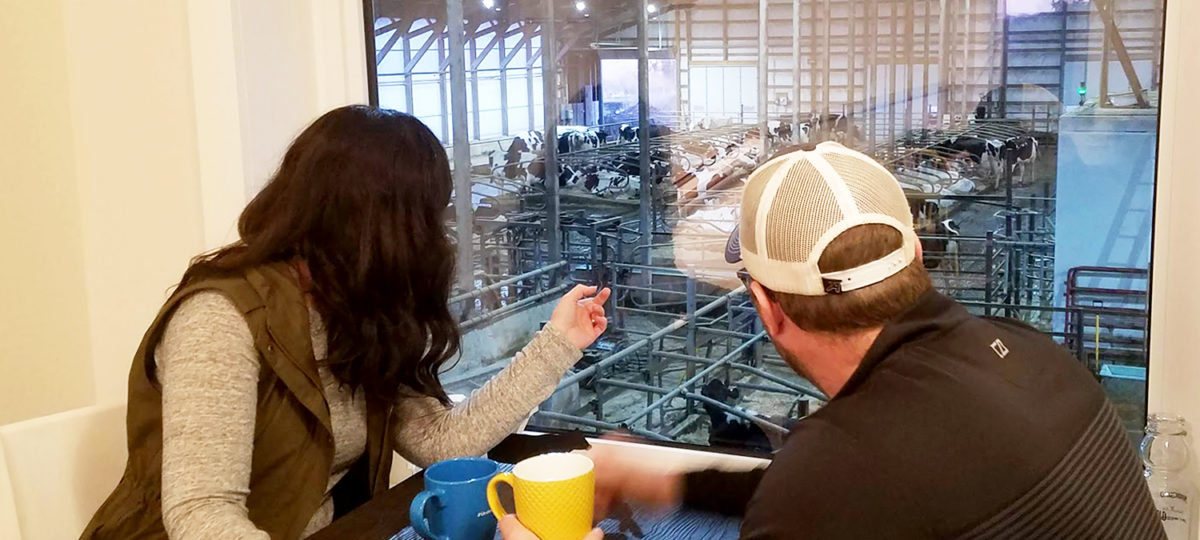 New Day Dairy's guest barn — available to book on Airbnb — gives visitors a clear view of the farm's resident cows.
Lynn and Dan Bolin opened up their farm in Clarksville, Iowa to the outside world in January 2020 in part to help bridge the divide between urban and rural populations.
Around 84 percent of U.S. residents live in urban areas, according to the University of Michigan's Center for Sustainable Systems, citing 2018 United Nations data. And a 2018 Pew Research Center study found both rural and urban dwellers feel misunderstood by Americans in other communities.
"About two-thirds or more in urban and rural areas say people in other types of communities don't understand the problems people face in their communities," the study found. "And majorities of urban and rural residents say people who don't live in their type of community have a negative view of those who do."
Repairing rifts between urban and rural Americans
The Bolins hope to repair such rifts in a small but meaningful way. Visitors to New Day Dairy, which milks anywhere from 110 to 120 cows, can cow-gaze through sprawling windows in the guest barn.
They'll "sleep with the cows," but not literally — the Airbnb features modern comforts like a queen-sized bed and kitchen stocked with dairy products such as milk or yogurt. Each stay features introductory and farewell tours, so guests can get up close and personal with cows (and snap a cow selfie).
Guests can also add on the "Be A Dairy Farmer" experience to milk a cow, check out the dairy's robotic milking machine, ride a tractor and even feed calves if possible.
Lynn Bolin says despite being removed from agriculture — now more so than in the past — people are fascinated with food.
"We want to know every little thing about the food, and we try to put it on a label, and yet it's so confusing and there's so much information out there," she told The Daily Churn. "[The dairy Airbnb] is really the opportunity to come and have that real-life experience and see what that is for yourself."
Staying at New Day Dairy can offer consumers "a little bit of an appreciation and an understanding of where that creamer in their coffee came from when they pour it in there each morning," she adds.
The Bolins' own experiences traveling in and outside of the U.S. — to over 10 countries on four continents, plus all 50 states, according to their Airbnb profile — sparked some of the inspiration for their farm stay.
"The experiences that we have had traveling the world and seeing how people live in such a unique variety of places and in different ways," she says, "have given us a perspective and a compassion and a broader view of the world than we otherwise would have."
They're now offering a new perspective of their dairy farm, an experience Bolin describes as "almost exotic if you're from the city, yet still in a space that is comfortable and welcoming."
A new way to see the U.S.
Former urban dwellers and now Oregon sheep farmers Scottie and Greg Jones are also working to bridge urban and rural divides through Farm Stay USA, where people can book trips at roughly 120 farms around the country.
"I thought I would be a really good host, because nobody was going to ask any question that was any more stupid than any question I had asked when we first moved here," Scottie Jones told The Daily Churn. "And I also knew how disconnected people were because that's how disconnected we were."
Her research found around 7,200 European farms offer stays, but in the U.S., many people remain unfamiliar with the concept. She once asked consumers at a farmer's market — the most likely to be aware of such opportunities, she thought — whether they knew about farm stays. Nine out of 10 people had no idea they existed.
Jones has uncovered at least 1,500 farms that could potentially be listed on Farm Stay USA (some are listed on other platforms such as Airbnb), but that's still far from even one percent of the 1.2 million small farms she says exist throughout the U.S.
Up close and personal
But she's not giving up on promoting their benefits. She says the experience can give consumers an understanding of why eggs or vegetables seem expensive at a farmer's market, because they'll see the hard work and care farmers pour into their products.
"Coming out to a farm, you get to understand a little bit more," says Jones. "There's a bridge in understanding, a bridge in education, a bridge in hands-on, just doing things physically."
Over the years, she says some guests have returned up to nine times. Other families connect as much with each other as their food. During one stay on her farm, children used the visit to convince their parents to get them a dog.
"They made sure every day they were sweeping the barn, scooping the poop, doing every single chore they could do, and they then wrote a manifesto to the parents — while they were here — about the fact that they had done all of these chores so well, they thought they now deserved a dog," Jones said.
Very impressed with their manifesto, Jones suggests farm stays "can show kids that chores aren't such a horrible thing to do, and that there's a goal in life to do them."
Jones likes to check in with the farmers, and they largely report positive experiences; she'd recently spoken to one Oregon farmer who said they've had just one bad guest in four years.
The rational middle
When asked if she worries activists might show up on her dairy, Lynn Bolin says it is a concern — but she and her husband  decided the benefits outweigh the risk.
"The more people that come and have a positive experience…it's more than just us telling our story at that point," says Bolin. "It's actually a broader, potentially more rational middle that says, 'Oh no, I've been there, I've seen that, I've done that.'"
Since launching, New Day Dairy has hosted two guests, including Michael Ruth of Mora, Minnesota. He says he didn't grow up on a farm, and that the Bolins were eager to answer his questions.
"The experience was far better than I expected," he says. "I toured the barn and got to meet some of the residents there in person. Did you know Dan knows every one by name?"
Ruth says he probably spent two hours just watching the cows from the upstairs viewing area.
"I'm a truck driver and see lots of farmland and often wonder what that kind of life would be like," he says. "I like cows and what a great way to watch them — from a comfy chair sipping coffee! I would definitely visit again. I'm thinking I might go back in the fall."