The Daily Churn
September 26, 2019 | by Ashley Hanson
Using nature to humanely manage pest birds on dairies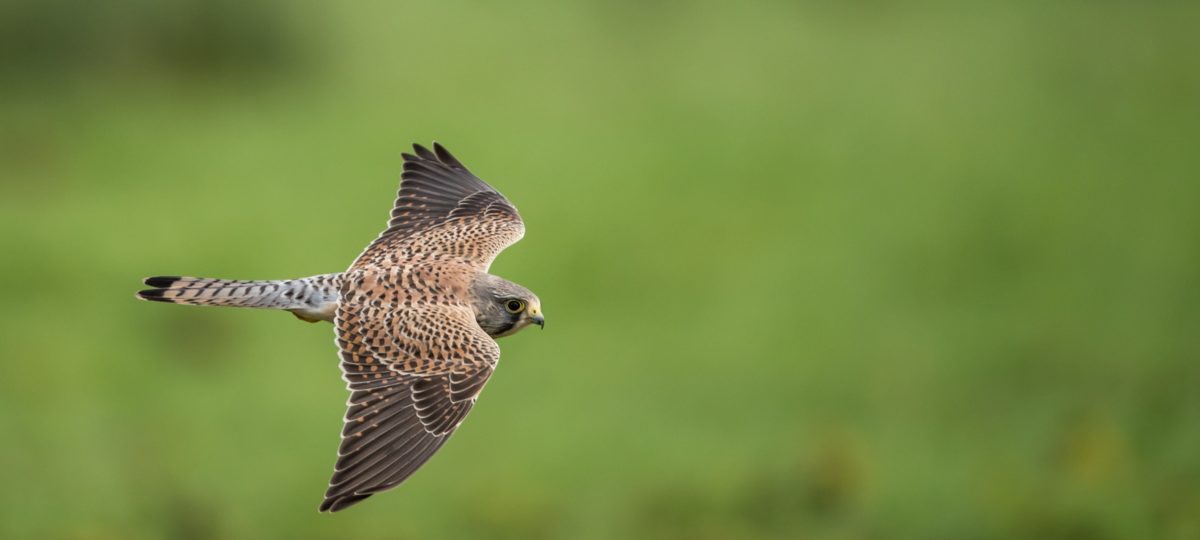 $11M pest on Washington berry and dairy farms
European starlings could cost Washington state's economy up to $11 million over the next five years. So says Amber Adams-Progar, a Washington State University (WSU) cattle management specialist interested in humane bio-controls on farms. Adams-Progar teamed up with John and Karen Steensma of Lynden, Washington — who own a dairy —to study the use of kestrels to control the invasive birds.
It's not impossible to find up to 10,000 starlings a day on a dairy. They're after cow feed. If feed is delivered when cows are in the parlor (away from the barn), starlings can consume 30 percent of the net energy cows need for lactation within 30 minutes, says Adams-Progar. Their research was funded in 2014 by a $238,105 research grant from Western Sustainable Agriculture Research and Education (SARE).
Farmers are looking for affordable solutions. Not only do they lose money to feed, but they also have to fight off harmful bacteria transmitted by birds, including E. coli. Stanford University says the first 60 starlings in the U.S. were released in 1890. Today, they number more than 200 million – one third of their global population.
Humane bio-control
Karen Steensma, who is also a biology professor at Trinity Western University in Canada, told The Daily Churn that frustrated berry farmers have tried shooting off propane cannons or playing recordings of predator birds – tactics that proved ineffective. Plus, the cows didn't appreciate the noise. 
"It wasn't a good match between berry and dairy for that to be going on," she says. 
Steensma and colleagues from Cornell and Michigan State University had previously researched starlings in orchards and abatement strategies; they concluded that "for every dollar spent on nest boxes, $84 to $357 of sweet cherries would be saved from fruit-eating birds." 
Steensma then became more involved with dairies after meeting Adams-Progar at an annual dairy producer meeting four years ago. Together they are hoping to address the dual challenge of reducing starling numbers and boosting kestrel numbers, which are low in Western Washington. 
Kestrel populations in Western Washington declined by 70 percent between 1968 and 2013,  according to breeding bird survey data from the North American Bird Conservation Initiative. The US Forest Service attributes this to urban sprawl, industrial growth and recreational activities that have limited kestrel prey options and cavity-nesting sites that are usually found in forest edges near open areas.
Ben Dover of Yakima, Washington, a former cherry producer and founder of Orchard Guard, started doing his part to help rebuild kestrel populations in 2005 with nest boxes.
New homes
"They don't always come like we'd like them to," he said. "If you put up 10 houses, they'll come to five. I figure I've helped raise at least 10,000 and that's just a 50 percent average." 
Following Washington Department of Fish and Game specifications, Dover  makes and sells nest boxes for $49 a piece. To date he has sold 4,000 boxes to agricultural producers, including 100 in Western Washington.   
"He's found a niche market with an environmentally friendly way to use bio-control," says Adams-Progar. While Dover makes the homes, back in Lynden, the Steensma family are rearing falcons.
Orphan kestrels grow strong
They relocated 20 orphan kestrels from Eastern to Western Washington between 2009 and 2013, and fed them bits of prey provided by the USDA starling trapping program. "When they had just a few goofy baby feathers on their heads, we started feeding them whole starlings," jokes Steensma.  Then the raptors grew independent, practiced predatory behaviors and eventually started moving starlings off the farm.
Kort Clayton, a falconer with Integrated Avian Solutions, cautions that there is no one-size-fits-all solution to pest bird problems. 
"Although kestrel nest boxes are a great habitat enhancement," he says, "in our experience, dairies with a substantial starling problem require aggressive control measures, such as a falconry program."  
This may be true of large dairies with major starling problems, Steensma says, but the presence of kestrels is still beneficial and can be combined with other abatement methods. Both she and Adams-Progar are confident their mission will be successful.
"We're waiting until the next breeding season in the spring to see if they'll take up their nest boxes," says Adams-Progar. "Hopefully it's a win-win where we provide a good nest site for them, help them with their declining populations and they help us keep starling numbers down." 
Steensma says there's a common misperception that farmland is inhospitable to ecological systems. But in reality, "agriculture is the next best thing to completely wild land."