May 6, 2020
Darigold partnership with Concordia University helps nursing students graduate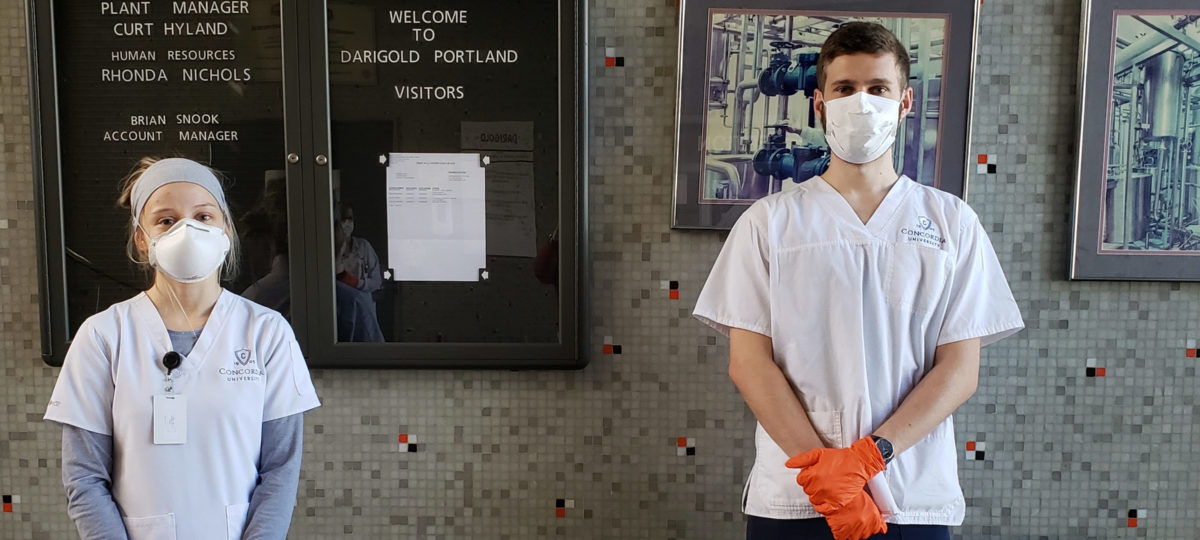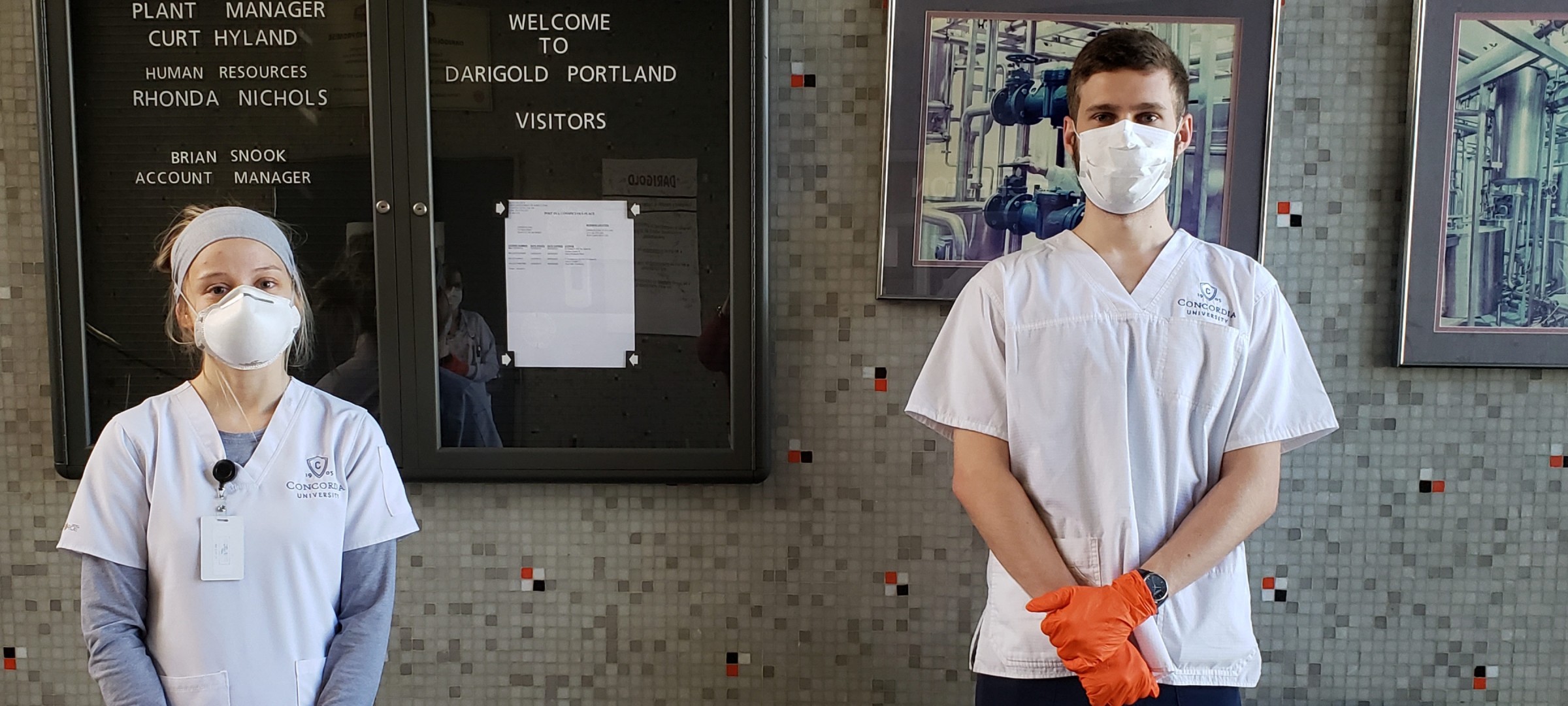 Without the partnership, many students would not have completed their nursing practicum in time to graduate.
The senior director of nursing services at Concordia University, St. Paul says a number of their students faced being unable to graduate this semester because of the COVID-19 pandemic. Their partner hospitals began to limit the number of people in their facilities back in February to stop the virus from spreading, she says, which meant many students would not be able to complete their nursing practicum — a requirement to obtain their Accelerated Bachelor of Science in Nursing (ABSN).
At the same time, the Centers for Disease Control and Prevention (CDC) expanded suggested protocols for companies identified by the Department of Homeland Security as critical infrastructure. Among other things, companies were advised to conduct health checks.
For Darigold — a Northwest dairy cooperative with around 400 members and 11 processing plants in Washington, Oregon, Montana and Idaho — a number of factors had to be considered to enable the business to keep operating with minimum risk to employees, customers and community members.
"Our first obligation was to take care of employees with a special focus on the safety of those whose roles require them to leave their homes," says Marie-Claude Milot, Darigold's Head of People, Culture and Engagement. "But we also took seriously our mandate to keep the milk flowing for our cooperative's member-owners and honor our consumers and customers who rely on a steady supply of wholesome dairy products."
Minding the law
The company also had to ensure best practices from a legal standpoint, according to Kristi Keene, Corporate Counsel.
"We had to weigh and consider the interplay between federal, state and local laws, and their requirements, guidance, and recommendations – all of which were evolving and continue to evolve on a daily basis," she says.
The company also explored whether it was even legally possible to make health checks a component of employee screening and mitigation plans. This cleared up on April 23, 2020 when the U.S. Equal Employment Opportunity Commission (EEOC) provided a helpful update to its COVID-19 Technical Assistance publication, according to Keene, who says this affirmed that employers may lawfully administer health checks to employees.
These had to be conducted in a safe and accurate manner, in observance of optimum infection control — without violating other laws under Americans with Disabilities Act (ADA), Title VII of the Civil Rights Act or their state law equivalents. Which is why Darigold contracted with various professional organizations.
"Working with medically-trained professionals limited our training time and allowed us to more quickly and effectively implement health screenings at all Darigold locations," says Keene, "as they had a general understanding already of many of these potential issues and concerns."
It was around this time that Darigold reached out to Concordia University.
Creative solutions in tricky times
Concordia's senior director of nursing services (who asked not to be named for personal reasons) says Rhonda Nichols, Human Resources business partner at the Darigold processing plant in Portland, Oregon, contacted the school in search of nurses who could safely conduct health checks at Darigold facilities. "It was a very innovative idea," she said. "Obviously it's not a 12-hour shift in the hospital, but they're still nursing assessments."
The assessments, she adds, include taking the temperature of anyone entering either Darigold's processing plant or their Milwaukee warehouse in Portland, followed by a series of standard questions. Anyone with potential COVID-19 symptoms was sent home to protect both themselves and other employees.
Calling it a great example of a university and community partnership, she says Nichols at Portland did a wonderful job of coordinating the whole program and ensuring all of the students had all of the personal protective equipment (PPE) that they needed.
Dina Campbell RN, who leads the nursing services program at the university's Columbia River location, says the partnership allowed them to help the community continue essential work, and "churn out" new nurses for the workforce.
Up to 25 students work on a rotating basis at the two facilities for four to six hours at a time, says Campbell — giving them valuable insight into a nurse's role in pandemic response. All of the nursing students graduated on April 25, 2020.
Win win
Milot says she is grateful to the university for stepping in to help.
"Having trained professionals providing health checks gave our employees the confidence of working in a safe environment," she says. "This partnership has been mutually beneficial — we're thrilled the students were able to complete their nursing practicum and graduate this semester."
In addition to the university, Darigold worked with Medix and Action on Site (AOS) to provide health checks at other plant locations.
Milot says while COVID-19 is a formidable foe, she is satisfied that Darigold has done everything possible to protect its employees and partners. She adds that while it remains unclear for how much longer it will be necessary to conduct checks at various facilities, each falling under different legal requirements, the company continues to closely monitor recommendations by local health and government officials and will continue to take all necessary steps to protect Darigold employees from COVID-19.
"Safety comes first," she adds. "Always."