May 9, 2022
Darigold names Kristi Kangas Chief Operating Officer, Duane Naluai Chief Customer Officer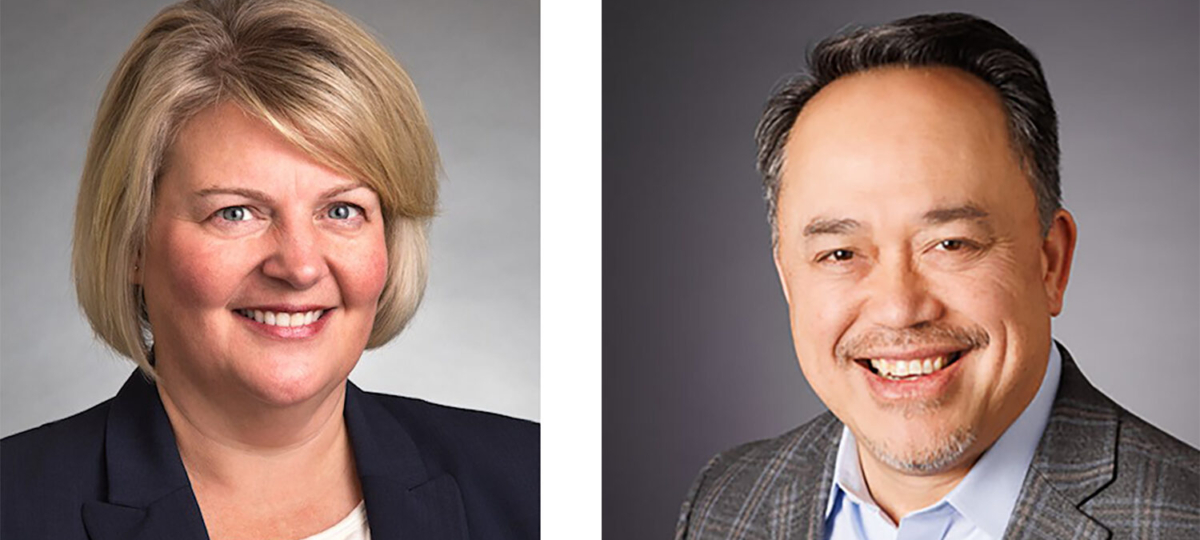 SEATTLE, May 9, 2022 – Darigold, Inc., the Seattle-based farmer-owned dairy co-op, announced that it has hired Kristi Kangas as its chief operating officer, and promoted executive Duane Naluai to the role of chief customer officer. The moves come as the 104-year-old dairy producer looks to accelerate some transformative initiatives aimed at modernizing and globalizing the co-op, including the construction of a new processing facility in Pasco, Wash., and the rebuilding of a fire-damaged facility in Caldwell, Idaho.
Kangas comes to Darigold with extensive experience in the dairy sector and consumer packaged-goods industry. Most recently, she served as president and chief operating officer at Readington Farms, a multi-product line producer that provides a variety of dairy products and other packaged goods for its parent company, Wakefern Food Corp. – one of the largest retail co-ops in the country.
In her time at Readington, Kristi had full operational, financial, commercial, and distribution responsibilities. Before joining Readington, she held senior leadership positions in manufacturing with one of the nation's largest dairy producers, and operational leadership positions with a global food production company. She is well accomplished in all facets of operations, including manufacturing, distribution, production engineering, and safety, among others. She holds a Bachelor of Science degree in Chemical Engineering, and a Master's degree in Business Administration in Strategy and Organizational Behavior.
Naluai joined Darigold in 2017 as senior vice president for sales and marketing, and head of the co-op's consumer products division. He was promoted to president of the consumer products division in 2020. In his new role as chief customer officer, Naluai oversees the co-op's business planning, customer experience, partner development, and domestic and global sales functions. In his time at Darigold, Naluai has led the development of several new products, including Darigold FIT milk, an ultra-filtered, lactose-free milk that offers 75% more protein and 40% less sugar than traditional milk, and elevated the co-op's focus on value-added products.
Prior to joining Darigold, Naluai held senior leadership positions in the consumer-packaged goods space, working with some of the world's largest packaged foods companies, and in professional services, including marketing and investment banking. He holds a Bachelor of Arts degree in Business, and is actively involved in the Dairy industry, serving as a member of Dairy Management, Inc.'s Fluid Milk Advisory Committee, leading efforts to revitalize fluid milk consumption through innovation, effective communication, and partnership development.
"We are leading dairy forward, and that means finding new ways to build value for our farmer-owners and our global customers," said Joe Coote, chief executive officer at Darigold. "Kristi and Duane are proven leaders, with experience and expertise that will be invaluable to us as we continue in our journey to modernize our business, build for our future, and leverage the strength of our brand to add value to our business both domestically and in markets around the world."
About Darigold
Headquartered in Seattle, Darigold, Inc. is the marketing and processing subsidiary of Northwest Dairy Association (NDA), which is owned by nearly 350 dairy farm families in Washington, Oregon, Idaho, and Montana. Darigold handles approximately 10 billion pounds of milk annually. Darigold produces a full line of dairy-based products for retail, foodservice, commodity, and specialty markets, and is one of the largest U.S. dairy processors. Darigold, Inc. operates 11 plants throughout the Northwest, processing high-quality milk produced by NDA farm families. For more information, visit darigold.com.