The Daily Churn
August 15, 2022 | by Georgie Smith
Women blaze new trail in cattle agri-foodtech innovation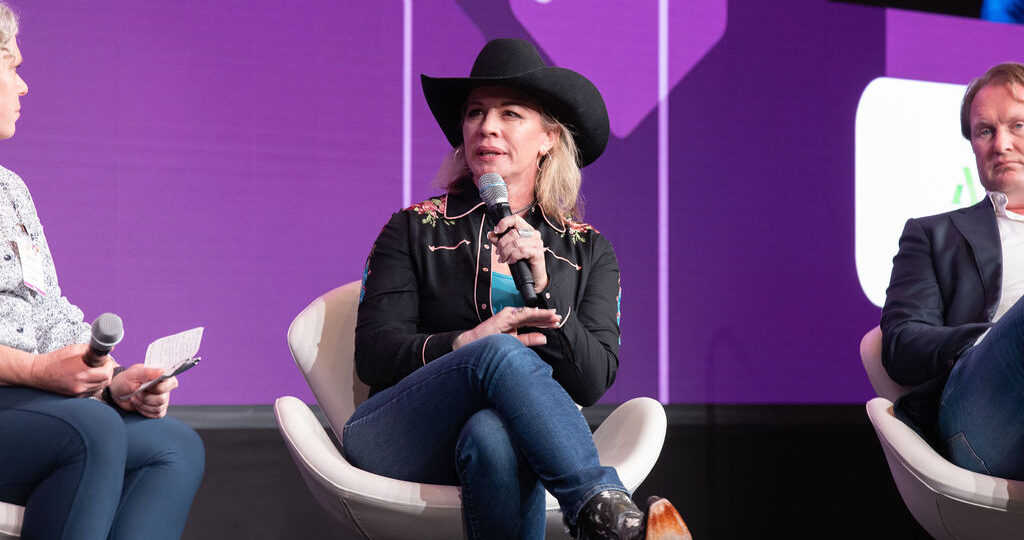 A new generation of female innovators are helping to solve big issues in cattle production, applying unique perspectives and skillsets.
These tech-focused female founders and CEOs are opening the door for more women to blaze their own path across the booming agri-foodtech sector, even if they remain in the minority.
Agri-foodtech is a relatively new business sector focused on solving food system issues, like reducing methane emissions in cattle production, using cows to minimize plastic waste or reducing waste by creating unique food from byproducts of food manufacturing, using science and technology.
Venture capitalists in 2021 invested $51.7 billion into new and growing agri-foodtech ventures, the most ever funneled into the sector, according to the 2022 AgFunder Agrifoodtech Investment Report. The report shows an 85% year-over-year increase in funding.
A small but mighty force in technology, women still aren't receiving their fair share of investment dollars, according to the 2019 "Money Where Our Mouths Are" report looking at women in agri-foodtech.
While previous studies show that women-led tech companies grow faster and generate a higher revenue than male-owned tech companies, the 2019 report found women-led companies in 2018 only received 17 percent of investment dollars in agri-foodtech.
The Daily Churn interviewed several female dairy and beef cattle tech leaders about their experiences working in dairy and beef cattle innovation at the Animal AgTech Innovation Summit in San Francisco earlier this year.
Attracting the largest audience to date, the summit was attended by over 600 global animal producers, entrepreneurs, tech pioneers and investors using science and technology to build a more sustainable, climate-friendly livestock sector.
Women thrive in agri-foodtech leadership roles
Agriculture is a "show-me" industry, an area where women founders and leaders naturally thrive, says Tamara Leigh, CEO of EIO Diagnostics. The startup uses advanced sensors and machine learning to detect and head off mastitis infections in dairy cows.
"It's a relational industry, and I think that's where female founders do really well," Leigh said. "I've been pleasantly surprised by the number of women who are active in agriculture and food innovation."
Melissa Brandão, chief revenue officer and founder of HerdDogg, agrees. HerdDogg is a beef and dairy-focused startup that creates ear tag technology to collect cow identification, biometrics and behavioral data.
"Women have always been involved in agriculture. They were farmers right alongside their husbands," Brandão told the Daily Churn. "I think the unique opportunity today is that there's a lot more capacity around the areas beyond agriculture. It's the networking and the bringing things together. And I think women are particularly good at that."
Women tend to approach problems holistically, which can be a real advantage in applying science and technology in new ways toward solving big-picture problems, says Alexia Akbay, founder and CEO of Symbrosia, a company developing a seaweed feed additive to reduce methane emissions in cattle.
She adds that women are good at seeing "the different stakeholders and pain points and providing an option or pathway forward that covers a lot of concerns on the table."
Not only are they convinced of their natural aptitude for their leadership roles, but the women we talked with said that opportunities have also increased thanks to this thriving new sector.
Opportunities for women in agri-foodtech
Agri-foodtech has provided so many more opportunities for women to be involved in agriculture than there were even just a few years ago, Leigh from EIO Diagnostics told us.
Before joining the founding team as chief marketing officer and eventually taking over as CEO, Leigh worked as an award-winning agricultural journalist. She remembers writing stories profiling careers for women in agriculture several years ago. Since then, the opportunities for women have increased significantly.
"The careers I was profiling were sometimes research careers or agronomy careers, oftentimes communications and marketing hires," she says. "But man," she adds, "if I was to write that article again, there are so many opportunities and things we didn't expect," pointing to high-profile companies in food and agriculture with female CEOs, like Beth Ford, the CEO of Land O'Lakes.
A 2020 agri-foodtech salary survey found that although women only held 10 percent of c-suite level positions in agri-foodtech companies surveyed, they did command the highest salaries by a significant margin. The highest paid agri-foodtech CEO in the survey was a woman.
Though she's not big on "touting that I'm female" and would rather talk about her drive for using innovation to move the sector forward, Brandão believes there is an advantage for women simply because they stand out in the space.
"At the end of the day," she adds, a lot of people know who I am just because I'm a woman."
While they were encouraged by greater female representation in the food and agricultural sectors, most of the women we connected with agreed that further progress is necessary.
Pushing for more change
There is still plenty of room for more women-led change in the agri-foodtech sector, says Leigh — especially on the technology side.
There are a lot of women at the CEO level and on the marketing side, but "we don't see as many female chief technology officers," something Leigh would like to help change.
"So, when I'm looking at my own company," she says, "I'm thinking, 'okay, what can I do to shift that landscape.'" And she is encouraged by the progress she has seen.
Leigh describes discovering that everyone she talked to at a mastitis research team at the Michigan State University lab was a woman.
"I was like, 'yes!' Women are involved in the research. They're out there presenting their science and they're doing all of these things," she says with a huge grin.
Akbay, an under-30 startup founder, is pushing for more systemic change from her lens as both a woman and a young leader in agri-foodtech. Issues like workplace safety, prioritizing collaboration and transparency in the industry are all important to her.
"As a leader right now," she says, "one of my main opportunities is also creating that culture shift."