The Daily Churn
March 18, 2020 | by Lacy Cooke
Why California is betting on biogas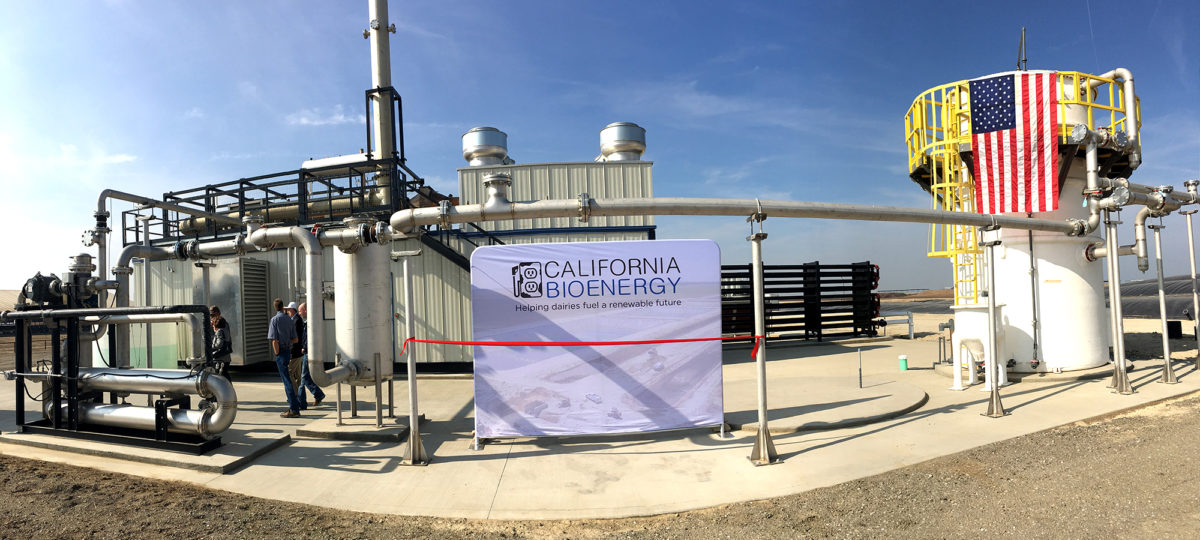 California is spending millions of dollars to increase biogas infrastructure through their Dairy Digester Research and Development Program (DDRDP) in a bid to create a secure and sustainable energy supply.
If you're new to biogas, here's the gist: Dairy farms generate a considerable amount of manure, which is often stored in lagoons. Dairies participating in California's DDRDP program have double-lined and capped lagoons that capture methane produced by bacteria breaking down the manure. This gas can then be converted into electricity or transportation fuel.
California's program offers up to $3 million in grants to recipient dairies, which put up a 50 percent match. Farmers apply online; the current application period is open through March 27. In return, they are expected to report on the digesters' performance, including tracking greenhouse gas emissions, for five to 10 years, according to Dr. Amrith Gunasekara, Science Advisor to the Secretary at the California Department of Food and Agriculture (CDFA). Scientific teams then review the farmers' quarterly reports and keep track of the data.
After 10 years, it's up to the dairy's owner to decide whether they want to continue operating the digester, which lasts for around 20 years. By then, Gunasekara — who holds a Ph.D. in agricultural and environmental chemistry from the University of California, Davis (UC Davis) — says he thinks the digesters will be so be ingrained in their operations, farmers wouldn't want to give them up.
Before 2002, not even five dairies in California operated digesters. But between 2014 and 2018, California invested $114.25 million in digester projects with 64 projects receiving funding from the state. CDFA estimated in a 2019 report that the project will result in a greenhouse gas reduction of roughly 12.8 million metric tons of carbon dioxide equivalents.
Methane matters
Lower methane emissions are an oft-cited benefit of digesters, as they capture methane that would otherwise escape into the atmosphere. That's important because, according to Ermias Kebreab, Ph.D. and UC Davis animal science professor, while methane is short-lived, it has 28 times the impact of carbon dioxide in the atmosphere.
"Methane, after 10 years, it will turn into carbon dioxide anyway, so you're not really saving the carbon dioxide," Kebreab explained over the phone, "but what you're saving is the 10 years that [methane] would have an impact on the climate."
World Wildlife Fund (WWF) Director of Dairy Sandra Vijn, who grew up in the Netherlands in a community with many tulip and dairy farmers, agrees that using the manure for biogas and converting it into CO2 is better than emitting methane from the manure into the atmosphere. She adds that biogas "can replace natural gas that would have otherwise been mined or drilled."
"From WWF point of view," she says, "we think using biogas is more sustainable than virgin natural gas."
Of course, not everyone shares that view.
Julia Jordan, policy coordinator with Leadership Counsel for Justice and Accountability, told The Daily Churn that biogas is not a clean fuel. Burning it releases carbon dioxide and nitrogen oxides. "It's a gas that goes into the same pipelines as natural fossil gas; it can leak just like fossil gas can leak. It is also at risk of explosion."
And Vox, an online news organization, recently called biogas a "false promise."
But Vijn says the World Wildlife Fund sees it as a "useful and important transition fuel." Officially, WWF's stance is that society should electrify "all we can and maximize other renewable resources like wind and solar," according to Vijn. But she says biogas may help fill one gap: high heat in industrial processes, which "cannot be easily met with electricity alone."
California doesn't stipulate how dairies use the biogas, according to Gunasekara at the CDFA. "We're just leaving all the options on the table so people can figure how it best works for their business plans."
Solutions for every farm
Affordability is one potential issue for smaller farms — eXtension Farm Energy estimates digester systems can cost up to $2,000 per cow. Farmers who benefited from California's program in 2016-2017 had at least 3,000 to 5,000 cows. But Gunasekara insists California doesn't see DDRDP as subsidizing larger dairies because they have a similar program for smaller operators too.
The Alternative Manure Management Program (AMMP) helps farmers with practices such as composting manure, pasture-based management or conversion from a flush to scrape system, and farmers don't have to match funds. Jordan, who received a master's in international agricultural development from UC Davis, thinks AMMP has potential, but said only around a fifth or so of the farms involved are composting manure, and none are employing pasture-based management.
AMMP grants in 2016-2017 went to to farms with herd ranges as low as 100 to 500 and as high as 4,001 to 4,500. (When we spoke in late February, Gunasekara said the 2019 report detailing the program's activities is forthcoming.)
As for the effect that dairies have on (often low-income communities) in California, Gunasekara says, "If you're putting in a dairy digester, we require you to go out to the community and understand what their challenges are, and then seek to address those challenges in the project. One of the things we have heard a lot about from the vulnerable communities is NOx emissions from the electrical combustion of the gas into electricity."
He explains farmers applying for DDRDP must detail strategies to mitigate NOx emissions; technical reviews go over those strategies to ensure they're feasible and will address the issue. Gunasekara also said when lagoons are capped, there are less odors, and double lining lagoons can help avoid nitrate leaching into groundwater.
In the meantime, the technology is helping to move the dairy business towards net-zero.
Moving towards net-zero emissions
While an anaerobic digestion trade association in the United Kingdom recently said investment in biogas could help their country move toward net zero emissions, Kebreab is cautious to say that biogas is "not going to be the only thing that would get us into to net zero, but it's part of the solution."
Gunasekara agrees that investing in biogas can help contribute to greenhouse gas reductions.
"If you look at some of the other nations, like Denmark and the Netherlands, they're really pushing how dairy operations can continue to contribute to the local economy, produce an important nutrient product, and still be a very important part of greenhouse gas reductions," he says, adding that DDRDP is reaching "some real goals."
"I think when the program was highlighted amongst other programs in the state it was the third or fourth most cost-effective program per dollar that the state was investing in."