The Daily Churn
May 8, 2020 | by Lacy Cooke
UK farmer designs ice cream trucks that run on sunshine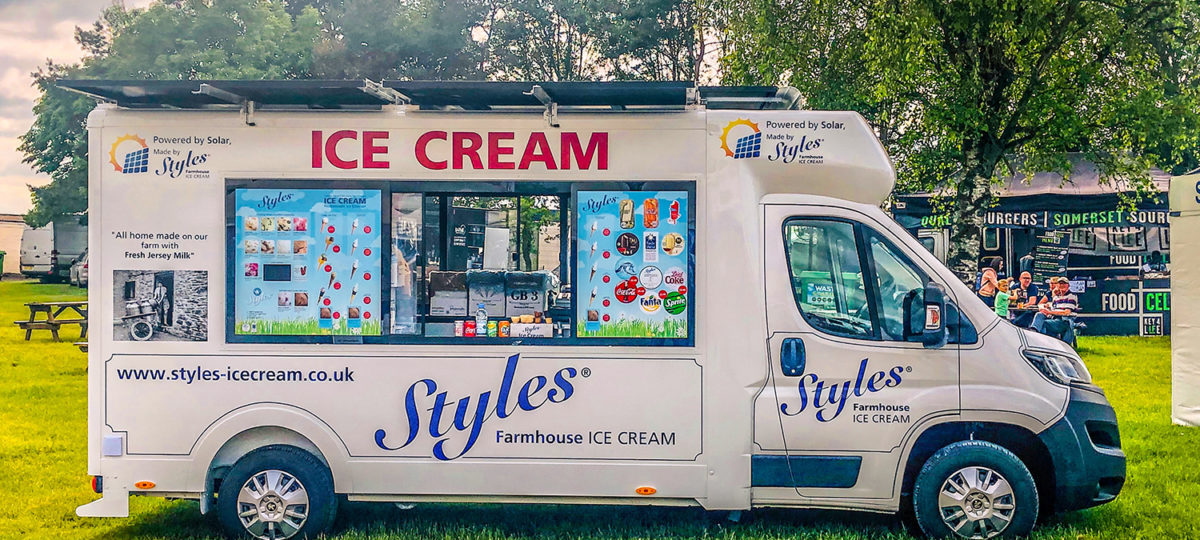 He originally designed the solar-powered vans to reduce fumes at festivals. 
Experts told David Baker it would be impossible to build an ice-cream van that runs entirely on solar energy. He forged on anyway, determined to build a vehicle that could run for days on end at festivals around the United Kingdom — without choking customers while they waited. "I don't tend to listen when people tell me it can't be done," he told The Daily Churn. By 2018, he'd designed his first prototype.
Three prototypes and three vans later, Baker's solar-powered vehicles have now served ice-cream to thousands across the UK. Five months every year, he says his team works around 160 events, including steam rallies, music festivals and agricultural shows. The solar energy saves him around £4,000, he estimates, or nearly $5,000 a year. Not bad for a second career.
Baker grew up on the 300-acre Styles Farm in Somerset. His family has farmed the land for 119 years, growing crops like wheat, barley and oats, and milking sheep and cows. In 1988, he diversified into luxury ice cream to bring in more income. 
Today, the ice cream side of business consumes most of his time. Other farmers cultivate crops on his land and milk the cows while he manages the wholesale business. Styles Farmhouse Ice Cream, with 50 employees, supplies 250 luxury ice cream shops and works events. 
They also set up shop in highly trafficked areas, what Baker calls thick sites. "Like an ice cream guy in Times Square," he says. Eventually he'd like to start selling his solar-powered vans to other ice cream vendors to generate yet another revenue stream.  
Pollution and carbon-free
Now his solar vans — "100 percent pollution and carbon-free," according to company literature  — are garnering attention across the pond. Baker says the vans come decked out with up to eight solar panels each, a Carpigiani 191 softie machine, fridge, freezer, hand-washing station, and even a coffee and waffle machine — if a vendor so chooses. 
One year at Glastonbury Festival, an event that draws around 200,000 people, Baker says his second van prototype worked four days without power — other than the solar panels and batteries, which are controlled by electronics to prevent overheating. He expects his third prototype to run for seven days without requiring external power. 
Part of the magic of his vans isn't just that they rely on clean energy, he says, but that they also consume less energy than a typical ice cream truck. "A normal van might take 11 kilowatts," says Baker, "and we've got that down to 2.4 without the coffee machine and the waffle machine." 
How did he accomplish this, when the naysayers said it couldn't be done? While he won't go into too much technical detail — he holds a patent on the vans — Baker says it's partly "a load of time and effort looking at different equipment" like freezers and fridges. "We've managed to get the weight sorted as well," he adds. "And all I am is a farmer!"
A farmer's pluck
Used to fixing farm equipment, Baker designed modular interiors for easier repair. For example, he says extraction fans in traditional ice cream vans are designed in such a way that it's extremely difficult to reach them if they break. 
"I said, no, I'm not having that, we will have four bolts on the outside, and when you take the grill off, the fan comes out with it." This means operators can change fans in about five minutes, according to Baker, as opposed to three to four hours with a conventional van.
He even found a way to make the vans easier to clean. Baker explains in a typical ice cream van, you enter through the front doors, but in his, you enter through the back. "It means if you put [the van] on a slight slope, you can actually just wash the whole lot out," he says. "You can't do that with other vans because anything you spill goes forward to where the gear stick is, and underneath the seats."
People have told Baker the van looks very modern. "The basic design [of traditional ice cream vans] is the same as what it was in the '60s," he says, "and [ours] is more of a modern look." Then there's the hush of a vehicle operating on sunlight. Without an engine running constantly, Baker says ice cream sellers don't need to strain to hear their customers. The silence actually surprised him at first. "It takes a bit to get used to," he says, "it's so quiet." 
Eco-friendly ice-cream
Best of all? The vans are cheaper than ordinary ones, according to Baker, who reckons the £4,000 he saves annually will pay for the vehicle in around 16 to 18 years. And what about the ice cream itself?
Google reviewer Mark Knightley hired Styles to serve ice cream at his wedding. It was apparently such a hit, the new couple had to postpone their first dance as guests got seconds. Twitter user Cara Naden described her scoop as "the best eco friendly ice cream." Sadly, the COVID-19 pandemic has put a halt on Baker's plans to ramp up van sales.
He started offering them for sale in early March, and a potential buyer in France showed interest. Now he'll probably have to wait another 18 months, he expects. One of many people worldwide hit by the COVID-19 pandemic, he stands to lose millions of pounds. 
Still, he is able to see the good in a bad situation. Despite the impact to his business, he says the three generations quarantining together on Styles Farm are "having a whale of a time." 
:: Images courtesy Styles Farmhouse Ice Cream