The Daily Churn
January 29, 2020 | by Lacy Cooke
Time-saving Herdwatch app puts cows on the cloud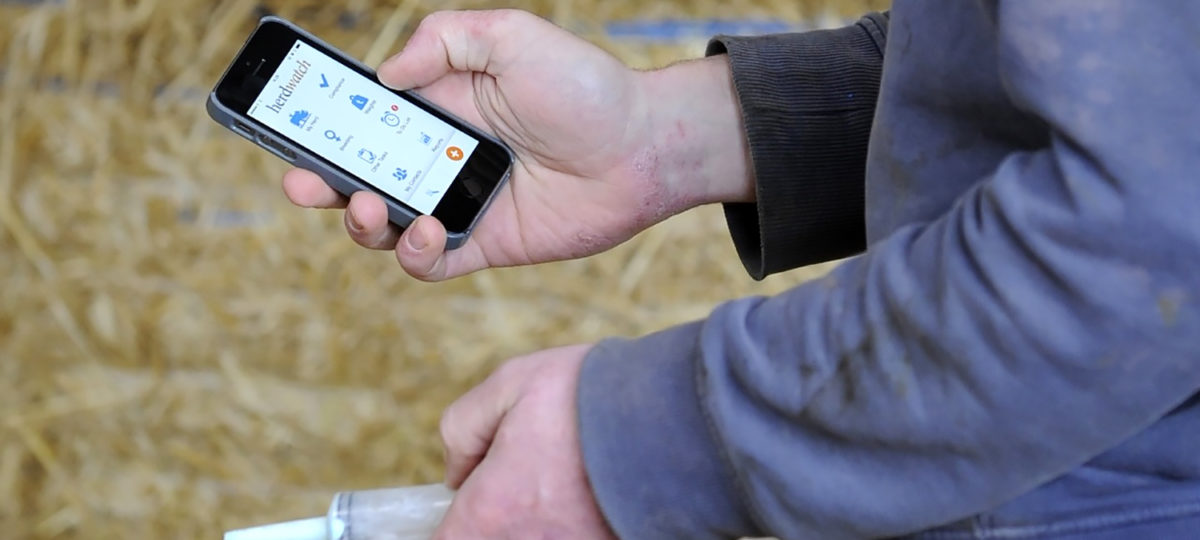 Save around three hours a week on paperwork. That's the benefit farm management app Herdwatch — built in Ireland to simplify tedious administrative tasks — offers to farmers.
With the tap of a finger, dairy farmers can use the app to register calves, record weights, manage breeding, access details about their cows and even order replacement ear tags. Herdwatch now boasts over 12,000 users in Ireland and the United Kingdom, with a retention rate of more than 90 percent.
When CEO and co-founder Fabien Peyaud worked for FRS Network, an Irish farm services cooperative, he noticed many of his colleagues, who were also farmers, had a common complaint: they faced a mountain of paperwork.
Coming from the IT industry, where Peyaud says paperwork was "almost a thing of the past," the complaints piqued his interest. But in 2011, he struggled to identify technology that would help farmers reduce their administrative load. Whatever computer software did exist then was often so convoluted, users would require training to use it.
Around that same time, Peyaud — who was born in France and moved to Ireland in 1996 — also discovered over 90 percent of cattle farmers eschewed herd management software, a statistic he found staggering. So, he went in search of a simple solution.
Mobile technology for busy farmers
When the idea for Herdwatch began to sprout in 2011, the iPhone was just four years old, but Peyaud recognized even then that farmers are "the perfect user for mobile technology."
"They're always moving," he says. "They're never sitting down at an office desk."
Drawing on his background in web technology, Peyaud built the app himself. After around two years of developing Herdwatch, he released the first version in 2014, delivering the tech straight to farmers. And it thrived, growing from zero to 6,000 members in around three years.
Andrew Darmody, a County Tipperary dairy farmer who milks 340 cows, has been using Herdwatch since 2014 (and reckons he's probably one of the first.) Darmody confirms the app is a time-saver. During certain periods of the year, such as during calving, he says the app gives him an extra seven hours a week.
More time for family
Before Herdwatch, he'd have to register calves on a computer website in the evenings, a process that took him around two or three minutes a calf — which adds up quickly when dealing with 15 to 20 calves. By contrast, with Herdwatch he estimates the process takes about 10 seconds a calf.
"We're mainly a dairy farm here and I need [the app] for recording births, deaths, cows calving or cows in heat," says Darmody. "Everything is there on the Herdwatch app."
The smartphone app also comes in handy when inspectors visit, according to Darmody.
"On the paperwork side of things, I can literally just show them the app," he says, "and it's all there for them."
Even his family has noticed the difference Herdwatch has made in his life, since he now has more time to spend with his children. Nor is it a big deal if Darmody loses his phone. In the past, if he accidentally misplaced the diary in which he kept records, he would lose everything.
"Now if I lose my phone, I might still pull my hair out," he says, "but at least I know all the information is up in the cloud and it's only a matter of putting it on the new phone."
Going global
While Herdwatch is currently only available in Ireland and the UK, the company is eyeing new markets — including the U.S. And they're preparing to make the app functional in more locations with a full rewrite that is nearing completion.
"One of the drivers behind this new platform," says Peyaud, "is, from the get-go, it's going to be compatible with a multi-region, multi-market approach."
Darmody is one of the farmers testing an early version of the new platform — and "by God, it's fast," he says. "They've refined a lot of things in it."
Peyaud aims to make the app experience seamless. "It's how can we make the technology fade into the background, so it becomes second nature," he says. "You want to keep it as simple as possible."
Based on user feedback, the company sees potential in building an ecosystem around Herdwatch. Peyaud says farmers are now using so many apps on a daily basis, they want one that combines all their tasks in one.
"We reckon there's a huge opportunity there to work with other industry players and bring all of this into an ecosystem that works for everyone," he says. And in every step of the development process, Herdwatch keeps the "farmer at the center."
:: All images courtesy Herdwatch