The Daily Churn
June 8, 2020 | by Kristine Hansen
These T-shirts are made with wasted milk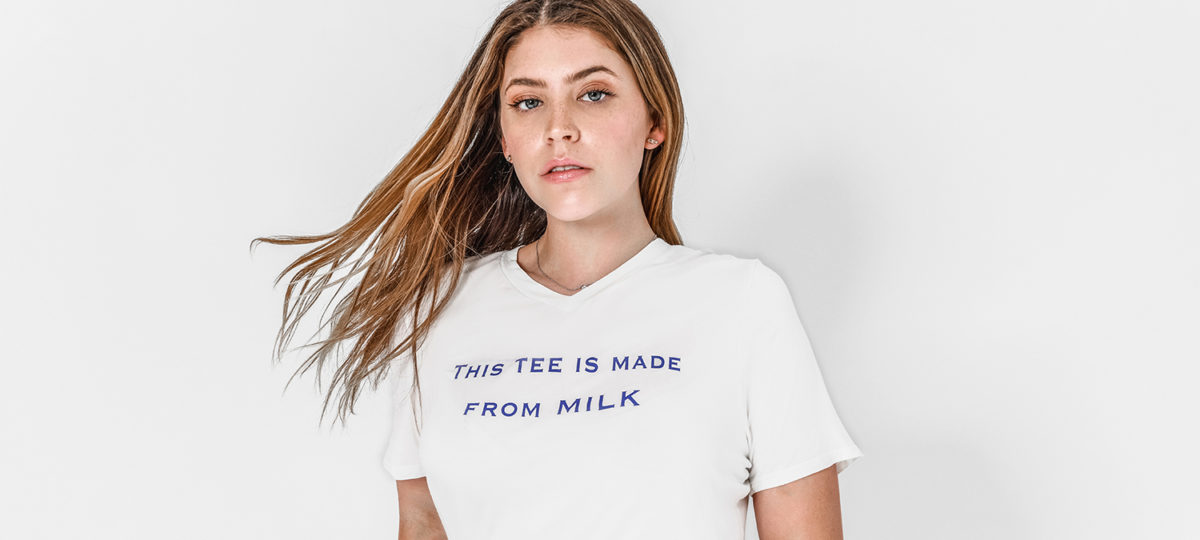 On a visit to his uncle's dairy farm in Northern China, Robert Luo was stunned by all the wasted milk he saw.
"I saw buckets of spoiled milk at his farm," says Luo. "He was really frustrated. He wasn't able to sell them to the yogurt processing center he used to partner with."
His uncle told him the center had decided to source their milk from farms offering a lower price at a higher scale. Luo, meanwhile, was struck by a business idea.
Already the owner of two start-ups (in the computer industry) and skilled at adopting sustainable solutions, he wondered if a byproduct for this wasted milk could bring financial relief to farmers like his uncle.
Enter Mi Terro, the world's first shirt born out of milk waste. With just six employees, the Los Angeles-based company released its first tee—known for its soft, allergen-fee qualities—in June 2019. The company's Pro-Act technology extracts casein-protein molecules out of milk sourced from farms, grocery stores and food-processing centers. Next, the casein protein is turned into "good" casein protein via self-assembly purification, before it is spun into sustainable fibers using dynamic flow shear (DFS) spinning.
"We use the existing viscose spinning machines to perform DFS," says Luo. "It is a wet-spinning process often used to create cellulose fibers."
Double whammy waste mitigation
The startup's business model mitigates the potential waste of two industries. The fashion industry is notorious for its environmental impact. In addition to requiring significant energy to keep factories running, the clothing business can be water-intensive. It takes at least 714 gallons of water, according to the World Wildlife Fund, to make a single cotton T-shirt. Cotton tees made of excess milk could help circumvent that problem.
And then there's the material waste. Global Fashion Agenda noted in its 2017 "Pulse of the Fashion Industry" report that about 4 percent or 92 million tons of the world's waste could be traced back to the fashion industry. By 2030, that number is expected to reach 148 million tons.
Currently, Luo says the milk is sourced in China, where the t-shirts are manufactured — but he hopes to eventually bring the whole operation stateside. In the meantime, he emphasizes what makes his product so exciting: "It's really about the raw materials and the process of making the shirt."
"There are zero petroleum chemicals. It's completely biodegradable and naturally degradable," he says. In addition to supporting the sustainability cred—one glass of milk can make five T-shirts, and the company plants 15 new trees with each purchase—customers fell in love with their fit.  "I ordered about 6-7 more T-shirts for my friends and family," wrote Ramya Chandrasekaran, "and had it shipped through a forwarding service to my home in Singapore."
Social impact
"Beyond making a product, we want to make an impact. Social impact is at the core of our business," says Luo. "As of today, we have planted 2,000 trees." Another do-good mantra? Partnering with Operation Food Search to reduce hunger.
Such a product could provide a new home for milk that might be otherwise wasted — especially now as dairy farms across the U.S. have had to dump record quantities of milk due to supply-chain disruptions resulting from the COVID-19 pandemic. More than 900 million pounds of milk were dumped in the U.S. between 2015 and 2016, according to the dairy program within USDA's Agricultural Marketing Service . By contrast, 71,270,397 pounds of milk were dumped in March this year alone.
For dairy farmers, dumping milk is devastating. But many have had no choice as orders from restaurants, airports and airlines, as well as school cafeterias, dried up due to national stay-at-home orders. At the same time, "spring flush"—an increase of cattle due to seasonal calving—contributes to an excess in milk supply, explained Mark Stephenson, director of dairy policy analysis at the University of Wisconsin-Madison earlier this year at the Wisconsin Agricultural Outlook Forum held in Madison, Wis. Now — it turns out — milk proteins can be spun into clothing, and the fiber they produce are said to be exceptionally soft.
Soft on the skin and Earth
"We initially created a shirt as a 'casual' shirt," says Luo. "People were finding them so comfortable they wore them to bed as pajamas."
Luo says the 18 amino acids in milk help soften skin and reduce irritation. Research published in the International Journal of Current Microbiology and Applied Sciences (PDF) may support his claim.
The report's authors wrote that milk fiber, originally invented in 1930s Italy and America as part of a drive for self-sufficiency, is a synthetic fiber with natural antibacterial qualities. "It is hygienic, flexible, smooth, sheen, renewable, biodegradable and eco –friendly fabric," they write, "but it has low durability and is expensive."
To date, Mi Terro has sold 1,500 shirts — and Japan is on board. A recent crowd-funding campaign launched by the startup's Japanese distributor surpassed its initial funding goal, raising 283% of their original ask. Japanese clothing brand UNIQLO is also distributing their products.
Mi Terro is not the first to spin fibers out of milk in recent years. A German company— Qmilk—announced in 2014, per this Guardian article, that it had done so with success. But they have not yet released wearable products.
Helping dairy farmers
For Luo, it all comes full circle, back to that day at his uncle's farm. "We are partnering with dairy farmers," he says, "so we can use our technology and help out farmers who are struggling and throwing out their milk."
Soon they hope to move beyond boutique status to help major retailers like Nike adopt similar techniques. Luo says they and Ralph Lauren purchased some of Mi Terro's finished apparel, along with fibers, to run tests.
We weren't able to independently verify the companies' involvement with Mi Terro, but Luo says he is seeing more businesses become aware of their raw-material use — and their ability to make an impact.
Now he's eyeing the packaging and medical industries and hopes hospitals and medical offices will one day buy uniforms crafted from milk.
Images courtesy Mi Terro