The Daily Churn
January 22, 2020 | by Lacy Cooke
Prefab Calf Café feeds calves from a repurposed shipping container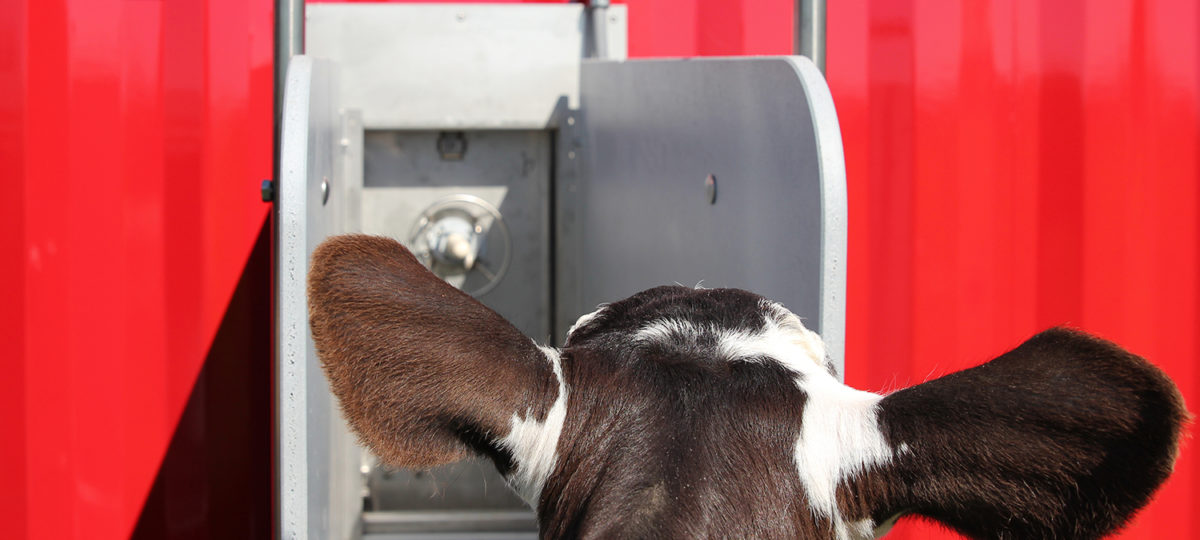 Repurposed shipping containers house everything from bars and clinics to tiny houses; now they're used to feed calves.
A fourth generation Pennsylvania dairy farmer who tired of feeding calves at 2am, Brad Biehl designed a portable, automated system that can accommodate up to 200 calves. Owner and president of AMS Galaxy USA (AMSG), a farm automation company, Biehl unveiled his prefabricated Calf Café last October at Wisconsin's World Dairy Expo.
Not only does it deliver consistent nutrition, but Biehl says it also cuts down on labor since calves can eat at their own leisure throughout the day. Plus, installation is a breeze.
The Calf Café arrives fully assembled — all farmers need to do is connect water and electricity. No building permits are required, according to Biehl. Equipped with Urban Alma Pro automated feeding technology, the Café can have up to eight drink stations that open to the inside, accessible via a man door. This allows farmers to easily swap out nipples and clean them in the café's sink.
The system, which protects milk from flies to ensure optimize hygiene, even monitors temperatures at the nipple to ensure the calves get warm milk.
Managing calf care
On the exterior, a station electronic module shows which calf is drinking and how much they have left to drink. The software also ranks each calf as green, yellow, or red based on how much they visit, how much they drink and their drinking speed to keep farmers apprised on calf health.
Automated group feeding boosts calf health in a variety of surprising ways, according to Biehl — including psychologically. He has observed that calves raised individually and weaned at 60 days go through a difficult transition period when placed in a pen with 25 or 30 herd mates.
On the other hand, calves moved into automated feeding pens at five or seven days old, which is what the company recommends, fare better when weaned at 55 or 60 days since they are already accustomed to living in a group setting.
Then "it's like pedal to the metal," says Biehl. "There's no slowdown in growth."
For dairy veterinarian Dr. Jennifer Wessel, the prefabricated feeding system has been a boon. As she prepared to establish a new heifer raising facility in California, she was committed to doing things differently than some of her peers — in part by installing a Calf Café.
Seamless and easy to use
"It's just really been seamless," she says, adding that the Café's mobility will give her the flexibility to change the flow on her new farm, if necessary. As for the data monitors? Wessel gives them a thumbs up, saying they are easy to read and understand. But not everyone is ready to embrace automated calf feeding.
While the concept is not new to the US, Biehl says dairy farmers in some areas of the country have been slow to adopt the tech. A bad installation can easily wreck the experience, he says, but "the Café takes all of that risk and makes it go away."
"Everything's mounted and set up and wired, tubes are the correct length and lines are insulated," says Biehl. AMSG guarantees the machine will work properly. By setting automatic calf feeders up inside the durable, watertight containers, sourced from nearby Newark, N.J., the company mitigates spending three to four days setting up on a farm — which adds unnecessary "on-the-road" costs.
"[The Calf Café] lets us do all the work in our shop so our team can get home to their families every night," says Biehl. "When it's done, we drop it on a truck and ship it off to the farm."
He reckons they can have calves feeding as soon as one day after a new unit is installed. And for those farmers who are skeptical, Biehl says his company's automation products are in use on his own farm.
"All I ever wanted to be when I grew up was a husband, father, and dairy farmer like my dad," he says. "Before putting on the AMS Galaxy USA shirt, I put on my muck boots and spend one to two hours with my cows."
Suitable for any climate
Designed to fit climates from Pennsylvania to California, the café can be equipped with insulated walls or air conditioning. And there are no limitations to where it can go, according to Biehl, provided there's a healthy environment with good ventilation and appropriately sized pens so calves aren't overcrowded.
Nor are calves and farmers the only beneficiaries of the Calf Café. Biehl says it's more fun for outsiders to visit a farm kitted out with automatic feeding.
"When you walk up to them, the calves don't immediately start bawling because they want you to give them a bottle; they just lay there and smile or run around," he says.
"They're just so content."