Darigold is proud to put Milk on a Mission and give back to our community
Our commitment to social responsibility is core to our values and has been practiced since our cooperative was founded over 100 years ago.  As part of that commitment, Milk and Cookies teamed up to support Girl Scout councils across Alaska, Washington, Oregon, Idaho, Utah, Wyoming, and Montana to help inspire the leaders of tomorrow. From February 27 through March 31, 2022 Darigold donated to local Girl Scouts for every half gallon carton of milk sold at participating retailers across the region.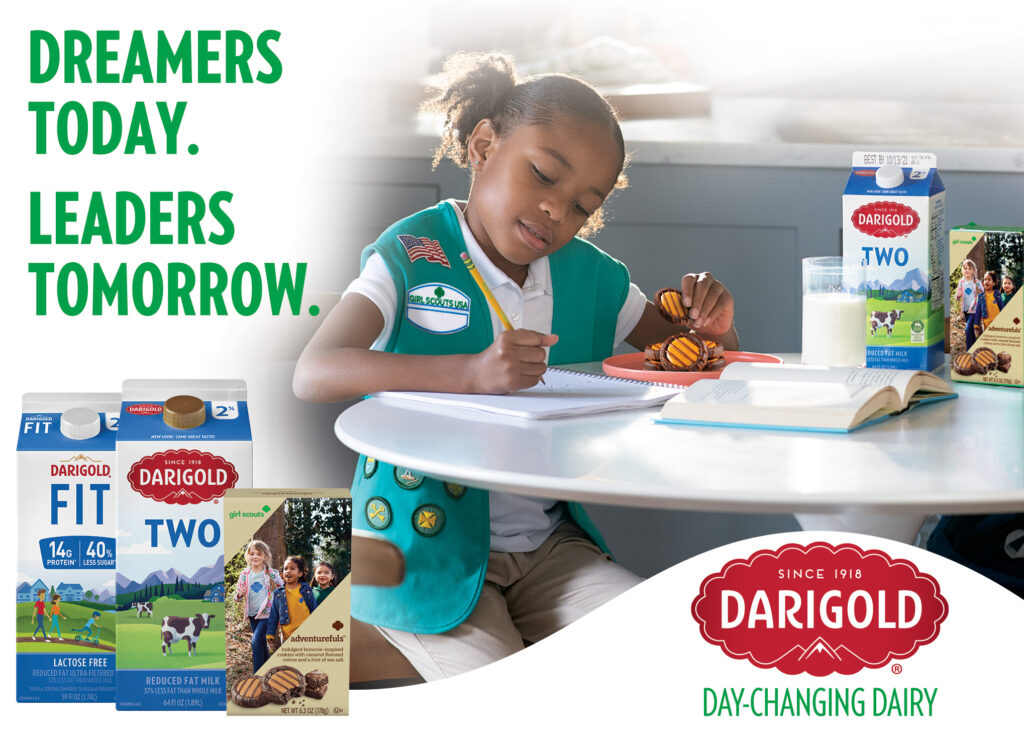 How to get Girl Scout Cookies
Girl Scout Cookie season is back, and there's a lot to be excited about in 2022! Girl Scout councils are offering online sales, in-person booth sales, and a brand-new cookie. Adventurefuls™ are the latest addition to the iconic Girl Scout Cookie lineup. Featuring an indulgent, brownie-inspired base, caramel-flavored crème, and a hint of sea salt, Adventurefuls™ will take you on a delicious taste adventure—just like Girl Scouts embark on amazing adventures all year long!
Here's how to get your hands on Adventurefuls™ and all your favorite Girl Scout Cookies this year:
1. Ask a Girl Scout
Pre-order cookies directly from a Girl Scout in your life! In this stage of sale, those who know a Girl Scout can reach out to their personal Girl Scout connection to place an order.
2. Online Sales
Order cookies online for shipping to your doorstep! Use the Cookie Connector to enter your information and connect with a local Girl Scout's Digital Cookie storefront. You can also donate online to Operation Cookie, which provides cookies to U.S. military service members.
3. In-Person Booth Sales
 Buy cookies from Girl Scouts at in-person booths! At the beginning of the pandemic in 2020, sales were cut short to keep Girl Scouts safe. And in 2021, this portion of the sale was skipped entirely. Now, with more information and safety precautions, Girl Scouts can once again safely grow their business skills in person for the first time since 2020. This year, Girl Scouts who opt into selling cookies at booths will be masked up and following their sale site's and Girl Scout organization's COVID-19 safety guidelines.
Learn more about Darigold and Girl Scouts