July 6, 2023
Darigold Completes First Offering Through Global Dairy Trade Platform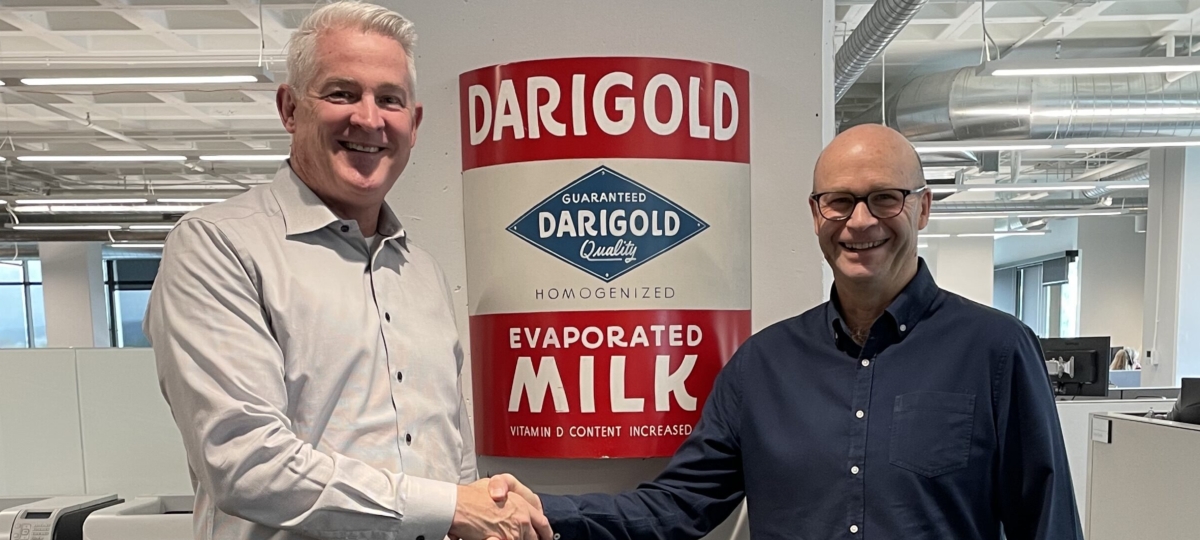 105-year-old Farmer-owned Co-op Looks to the Global Trading Platform as a Tool to Support International Growth
SEATTLE, July 6, 2023 – Darigold, Inc., the Seattle-based farmer-owned dairy co-op, has joined the Global Dairy Trade (GDT) platform and has completed its first product offering through GDT Events. Through the offering, initiated on July 4 as part of GDT Trading Event 335, Darigold offered two skim milk powder products and one buttermilk powder product.
One of the largest dairy producers in the United States processing nearly 10 billion pounds of milk annually, Darigold is looking to leverage its proximity to global shipping infrastructure and building a new production facility in Central Washington to support its global growth ambitions. Working with GDT expands the co-op's reach into new markets and provides access to more customers, making GDT an important strategic partner in Darigold's global transformation.
"The Darigold brand is beloved in the Northwest where our farmer-owners are raising cows and our teams have been producing high-quality dairy products for more than 100 years," said Joe Coote, CEO at Darigold. "But the growth opportunities in dairy are more robust in global markets, and our co-op is uniquely positioned to leverage this opportunity. While we're already a top-tier dairy producer in the United States, there's an opportunity for us to transform Darigold into a global leader in the category as well. That's one of the ways we are continuing to build value for our farmer-owners, our co-op, and our customers."
Under its own brand and through a number of private label partnerships, Darigold produces and sells a variety of dairy products – including fluid milk, butter, cheese, sour cream, and cottage cheese – throughout the Northwestern United States, where its 300 member farms and 11 production facilities operate. Globally, it offers a variety of dairy products, including butter, cheese, and powdered products, all produced in a region that is ideally suited for producing top-quality dairy.
Darigold's global advantage is tied to its producing milk in a geographic region that is ideally suited for top-quality dairy production, couple with its proximity to shipping infrastructure to efficiently transport its products worldwide. With all of its farms and production operations in the Northwestern United States, the co-op enjoys ready access to maritime ports, railways, and interstate highways.
To further support its global growth goals, the co-op broke ground last year on a new, $600 million production facility in Central Washington – its third major capital investment in as many years – to expand production capacity. When fully operational, this new facility will allow Darigold to process an additional 8 million pounds of milk per day, creating on-farm expansion opportunities for its farmer-owners.
GDT was established in 2008 and is already the world's foremost online trading platform for dairy products.
Eric Hansen, CEO of Global Diary Trade, said, "Our three-year strategic plan includes a focus on improving the global supply of dairy products. In line with this, we are actively looking to attract new sellers from all global milk pools to offer our bidders more choice and enable GDT to publish credible reference prices for more products and across more regions. US exporters play a significant role in our model, and we are thrilled to have a top-tier producer like Darigold join GDT."
Darigold produced more than 450 million pounds of milk powders in its last fiscal year (ending March 31, 2023), with a growing share of that for customers in global markets. It also exports butter, cheese, and fluid milk products to some 30 countries worldwide.
About Darigold
Headquartered in Seattle, Darigold, Inc. is the marketing and processing subsidiary of Northwest Dairy Association (NDA), which is owned by about 300 family-owned dairy farms in Washington, Oregon, Idaho, and Montana. Darigold handles approximately 10 billion pounds of milk annually. Darigold produces a full line of dairy-based products for retail, foodservice, commodity, and specialty markets, and is one of the largest U.S. dairy processors. Darigold, Inc. operates 11 plants throughout the Northwest, processing high-quality milk produced by NDA farm families, and satellite offices in Mexico City, Mexico and Shanghai, China. For more information, visit darigold.com.
# # #
Contact: Chris Arnold
Chris.Arnold@darigold.com
206-305-8961