October 9, 2023
Darigold Adds to Leadership Strength With New Hires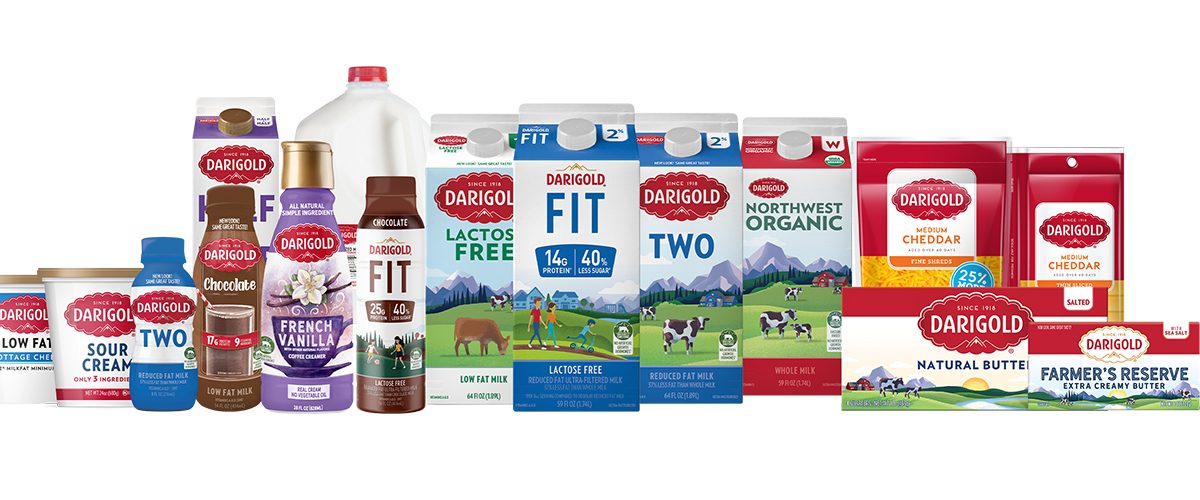 Three New Appointments Better Prepare Co-op for Global Category Leadership
SEATTLE, October 9, 2023 – Darigold, Inc., the Seattle-based dairy co-op, has hired three new executives, adding to its leadership strength as it continues a transformation aimed at modernization and global growth. The co-op today announced that it has hired consumer-packaged goods leader Dan Hofmeister to the role of President of its Business-to-Consumer division, and proven dairy industry veterans Chris Rowe to the position President of its Business-to-Business division, and Dan Bukowski to the role of
Senior Vice President of Sales.
Already one of the largest dairy producers in the United States, Darigold is midway through a multi-year transformational effort aimed at modernizing and globalizing its business. The 100-year-old, farmer-owned co-op is building a new production facility in Central Washington (Pasco) to expand its capacity, updating its infrastructure, and making new investments in its brand and value-added products as it looks to expand its business globally.
Hofmeister comes to Darigold with extensive experience in the food and consumer packaged goods spaces, having held positions of increasing responsibility with such well-known consumer brands as Jenny Craig, Bumblebee Seafood, and Hormel Foods. His experience spans a variety of important commercial functions including brand management, marketing, business development, sales, and portfolio management. He holds a Master's of Business Administration degree from the University of Wisconsin, a Master of Arts in Theology from the Missio Theological Seminary in Philadelphia, and a Bachelor's degree in Business Administration from the University of Wisconsin.
Rowe joins Darigold as President of the Business-to-Business division. With more than 30 years of experience in the dairy sector, most recently with global dairy company Fonterra, Rowe is a proven dairy sector leader. He has held a number of positions of increasing responsibility spanning finance, global operations, strategy, and planning, most recently serving as Group Finance Director at Fonterra. Rowe holds a Bachelor's degree in Commerce from the University of Auckland, and a Master's degree in Management Studies with a focus on Accounting and Business Management from the University of Waikato in New Zealand.
Bukowski brings to Darigold extensive leadership experience in sales across the dairy and food and beverage industries, including experience with Organic Valley, Dean Foods, Conagra, and the Hershey Company. Most recently, he served as Executive Vice President of Sales at the dairy company Good Culture. In his role as Senior Vice President of Sales at Darigold, he will lead all facets of the co-op's sales operation. Bukowski holds a Bachelor's degree in Business Administration from Gonzaga University.
"Each of these leaders brings a wealth of experience from notable consumer packaged goods companies or across the dairy sector working with large global businesses, and smaller, upstart consumer brands," said Joe Coote, Chief Executive Officer at Darigold. "Their combined experience, brand savvy, and industry expertise will be invaluable to our team as we look to elevate our performance in key areas and continue to transform our co-op into a global leader in dairy."
Already a domestic leader in dairy, Darigold's transformation is aimed at establishing the co-op as a global leader in the category.
"With farms and processing facilities throughout the Northwest, all of our operations are in a region that is ideally suited to produce top-quality dairy," said Coote. "Between that and our proximity to global shipping infrastructure, we have a competitive advantage that other dairy producers don't. Leveraging those advantages is how we'll maximize the value of the milk coming off our member farms to add value for our farmer-owners, our customers, and our co-op."
About Darigold
Headquartered in Seattle, Darigold, Inc. is the marketing and processing subsidiary of Northwest Dairy Association (NDA), which is owned by nearly 300 family-owned dairy farms in Washington, Oregon, Idaho, and Montana. The co-op handles approximately 10 billion pounds of milk annually. Darigold produces a full line of dairy-based products for retail, foodservice, commodity, and specialty markets, and is one of the largest U.S. dairy processors. Darigold, Inc. operates 11 plants throughout the Northwest, processing high-quality milk produced by NDA farm families, and satellite offices in Mexico City, Mexico and Shanghai, China. For more information, visit darigold.com
Contact:
Chris Arnold
206.273.8408
Chris.Arnold@darigold.com