The Daily Churn
May 7, 2020 | by Kristine Hansen
Kindness Cooler in Wisconsin helps community hit by COVID-19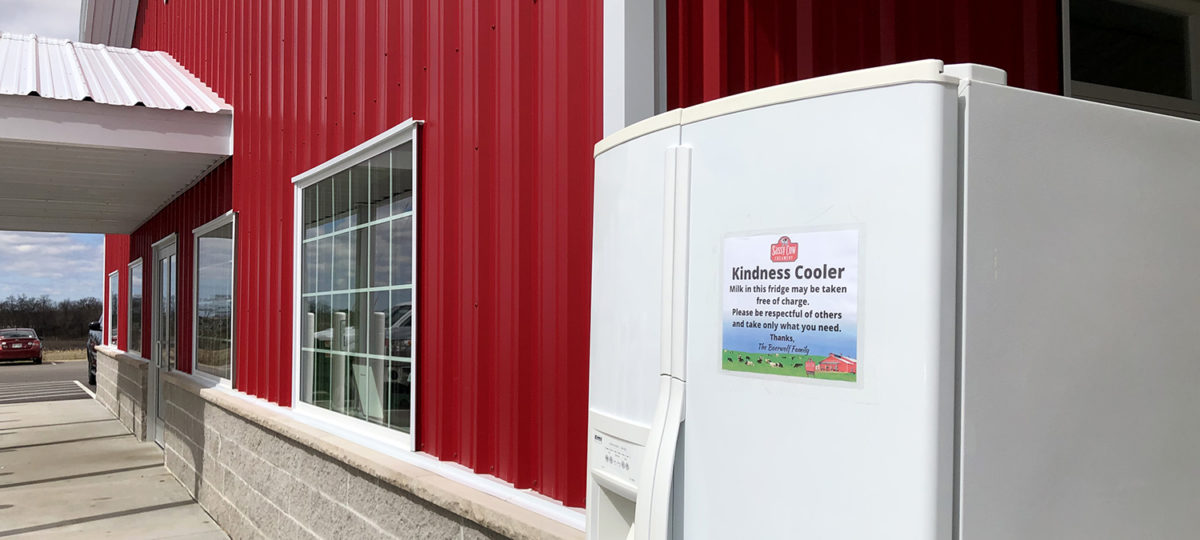 Kindness is sometimes best served cold.
James Baerwolf and his brother Robert created what they call a Kindness Cooler in rural Wisconsin. Co-owners of Columbus' Sassy Cow Creamery, which sells a variety of dairy products—including around 50 flavors of ice cream—they sought to give back to their community amid the COVID-19 crisis. 
Placed just outside the creamery's cherry-red store, the Kindness Cooler is stocked with milk that's free for the taking. James Baerwolf says the idea is that anyone in need can pull up, grab a gallon of milk and be on their way—without adhering to specific hours or demonstrating need. Even if it's a fellow dairy farmer. 
Dairy as currency
Wisconsin's dairy industry contributes $45.6 billion to the state's economy, according to the State of Wisconsin's Department of Agriculture, Trade and Consumer Protection. But restaurant closures (for dine-in service) due to the pandemic, along with the state's shelter-in-place order, caused the market for milk to take a nosedive. 
With orders down and grocery shoppers pinching pennies, some farmers were forced to dump milk — a devastating blow. Meanwhile, unemployment rates are growing. Since mid-March, over half a million people have filed for unemployment benefits with the state's Department of Workforce Development. Baerwolf's family was determined to find creative ways to help.
Baerwolf acknowledges the irony of a dairy farmer being philanthropic towards a community filled with around  20 other dairy farms. But donating milk proved to be easier than dispensing cash. It's a "currency" he says he can easily part with. As third-generation farmers of land that's been in the family since the 1940s, the Baerwolf brothers source milk from their 850 cows that graze on pasture at two different farmsteads. They launched the creamery in 2008, smack-dab between the two farms, ensuring close proximity to fresh milk.
Simple solutions to complex problems
"This caught us all by surprise," says Baerwolf about the local economy's downfall in late March. "All of a sudden, in a week's time, things were getting shut down and people were getting laid off."
His family yearned for a "straightforward" and "not cumbersome" way to help, one not riddled with paperwork and instructions. They also could not put their own workers at risk.
"They're certainly current with everything going on," he says about his kids, who came up with the idea for the Kindness Cooler—an idea he quickly got behind. "We have to stock it throughout the day, and we'll continue that as long as needed." But they won't be able to reach everyone in Wisconsin.
Southern Wisconsin in need
Second Harvest Food Bank of Southern Wisconsin, which services Dodge and Columbia near Columbus, has seen an increase in demand at its 28 mobile sites. "We're seeing their numbers are upwards of 100 percent over the past three weeks," says Danielle Lawson, food resources manager. 
"Three weeks ago, we had planned to provide 100,000 boxes of food over the next six to eight weeks. We've already supplied 60,000 boxes." 
 To further meet demands, the Department of Agriculture, Trade and Consumer Production is forming a task force to capture milk and either supply it to food banks in the state, or process into dairy products like yogurt or sour cream. "I've heard from dairy farmers all over the state about how they can help," says Lawson. "It provides help to people but also helps the farmers."
Sassy Cow Creamery hasn't been immune from this economic slowdown. "We've lost a good, solid third of our business," says Baerwolf. "Restaurants went through the higher-value, higher-dollar products, like heavy cream, and that's less going back to the farms."
The ripple effect of kindness
A common response to COVID-19 challenges is anger, says Dr. David Cipriano, associate psychology professor at the Medical College of Wisconsin. This is especially true, he says, in our Western culture which "values the rugged individual." 
Service to others is really what brings joy, according to Cipriano, not personal accomplishments or material acquisitions. "Studies show that's short-lived happiness," he says. "Altruism and philanthropy also move the needle on our personal happiness and are longer lasting. When we have initiatives like Sassy Cow Creamery's, it gives us a common focus." 
Cipriano says the Kindness Cooler's rippling effects could very well go beyond milk recipients. "Hearing about acts of kindness could stimulate others to think about what they can do," he says. "That will lead to some action and build some social cohesion."