The Daily Churn
November 18, 2019 | by Tafline Laylin
Elderly couple's fizzy milk scoops second place in California accelerator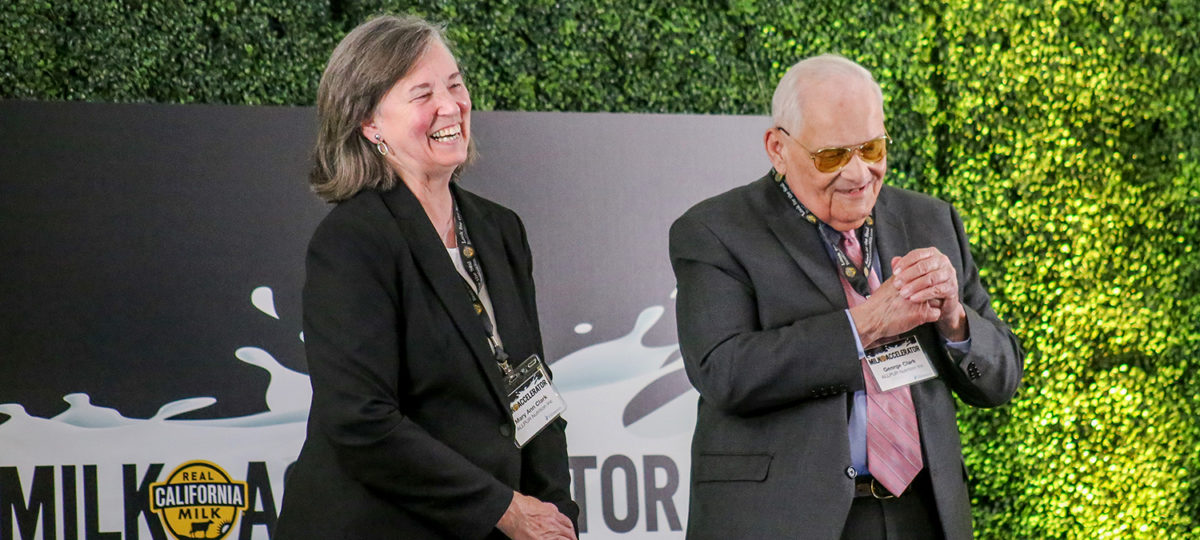 Mary Ann and George Clark had a startup long before startups were cool. But they've only just entered the modern accelerator scene. The registered nurse, 70, and her 85-year-old husband, a pharmaceutical chemist, took second place on Nov. 7 in a competition hosted by the California Milk Advisory Board (CMAB).
Working with VentureFuel, which injects entrepreneurial spirit into large companies, CMAB awarded the Clarks and eight other finalists $25,000 to develop milk-base protocepts. The goal? Catalyze innovation and boost California milk consumption.
A panel of judges voted the Clarks' lactose-free PERQ+ soda the second most likely of the final products to succeed in the marketplace. Each group was scored according to factors such as nutrition, scaleability and taste. First place and $250,000 went to Bears Nutrition, which makes on-the-go nutritional shakes for kids of busy parents. The Clarks' company ALLPUR Nutrition received the second highest score.
Fruity milk that tastes good
"I'm not a big fan of strawberry," John Talbot, CMAB CEO, said of one of the couple's flavors, "but this product had a nice blend of milk qualities and fruit that frankly surprised me."
Though Talbot questions whether it will be sweet enough for kids, George and Mary Ann are hopeful their soda will wean young people off sugary sodas. There's just one snag: they need to get it into stores. And to do that, they need help.
Their broker Bob O' Connell says he's been handling sales and marketing for them since they first hit the dairy scene with e-Moo. With help from Cornell University, in 2001 they developed a 100% milk-based carbonated beverage that received quite a bit of attention at the time. They almost had a breakthrough in 2004, when New York Schools ordered both e-Moo and regular milk from them. But their processing plant wasn't up to code for such big orders and they ran out of money. Despite suffering other setbacks since, the pair bounce back every time, according to O'Connell.
George's creations have "great drinkability," he says. "He takes the bad stuff out and makes it healthier and healthier." O'Connell claims at least 3,000 stores are ready to try PERQ+, but so far mass distribution has eluded the Clarks. They remain hopeful this will change thanks to guidance received during the accelerator's two-month mentoring period.
Perseverance conquers
George was ahead of the times 20 years ago when he first concocted a carbonated milk beverage in his own kitchen.
Disturbed to see school children throwing away milk cartons and the general soda trend, Mary Ann had asked him to make a fizzy beverage kids would want to drink. But it had to have milk's powerful nutritional profile. Leaning on his experience working with companies like Pfizer Labs and Hoescht Pharmaceuticals, George immediately applied his mind to the challenge. In fact, he's never stopped.
"My hot button is that I enjoy problem-solving," he says. "However, I only want to work on things for which our labor can make a difference in health or disease state."
Albeit early pioneers of carbonated milk-based beverages, the Clarks certainly weren't alone — and no milk-based sodas seem to have stuck in the U.S. But that hasn't stopped the Clarks from persevering. The pair have had a total of 19 patents, according to George, four of which are still active. And they have applied for an additional three. Asked what drives them, he gives her all the credit.
In it for the kids
"Mary Ann is our driving influence due to her interest in youth nutrition," says George. "She is deeply concerned about the fact that life has changed so much and kids are now left…  to make adult decisions about foods which can have a significant impact on their health in later life."
With their target market in mind, the Clarks worked with Virginia Tech back in 2009 to have middle schoolers taste their products. They submitted two samples, including one of a beverage called Orange Effect Fizza — an early precursor to orange-flavored PERQ+. The results were promising.
"Overall, middle school-aged children were positively responsive to the product and liked it equally as well as milk," Dr Susan Duncan, a professor of food science and technology, wrote at the time. "Several students commented that they would choose the product over milk."
Still, she recommended increasing the flavor and said that girls, more than boys, reported a negative aftertaste. George has since perfected that formula, he believes. The culmination of those efforts, PERQ+ is not only lactose free, lower in calories and higher in protein, but has the mouth feel of regular soda. It also retains milk's other nutritional properties, including vitamin A, vitamin D and calcium, without the earlier viscosity.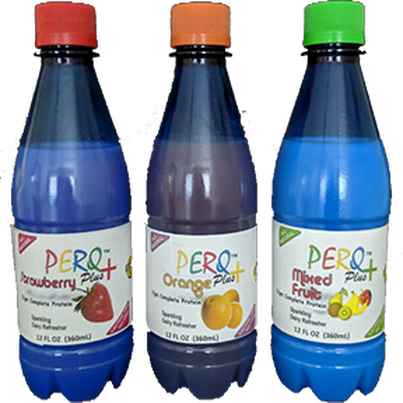 Fizzy milk for the masses
The next step? Find a dairy and processor that will help them make the product en masse, so they have sufficient supply for widespread retail distribution. Finding this and capital has been a longstanding challenge for the couple, but the market may finally be primed for what they have to offer.
Bob Carroll, CMAB's vice-president of business development, says although overall dairy consumption has risen across the country, largely thanks to cheese and yogurt, milk consumption has been declining since "at least the mid-70s."
It's not a marketing problem, he claims, citing how the Got Milk campaign — which Fast Company called one of the most famous ad campaigns in history — wasn't able to budge the trajectory of milk consumption. Instead, he and others across the business have cottoned onto what the Clarks have always known: fluid milk suffers from an innovation deficit.
Carroll is now convinced the innovation they seek is within reach.
"The energy and spirit that comes from these entrepreneurs is absolutely contagious, " he says. "These guys are fantastic, with great products and great teams."