The Daily Churn
September 2, 2021 | by Keely Khoury
Dutch light art celebrates farmers and boosts crop growth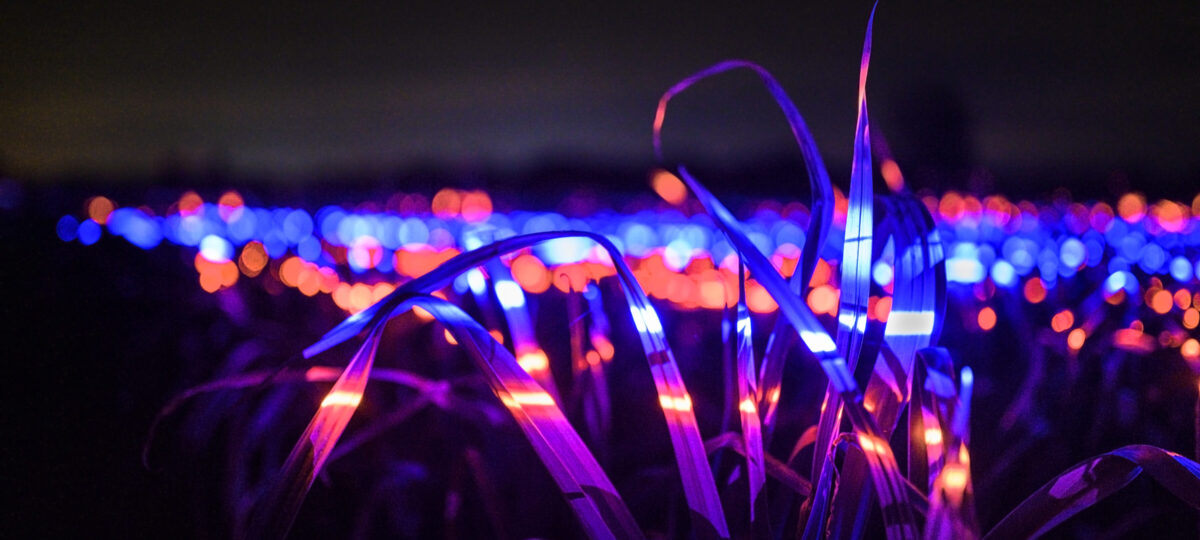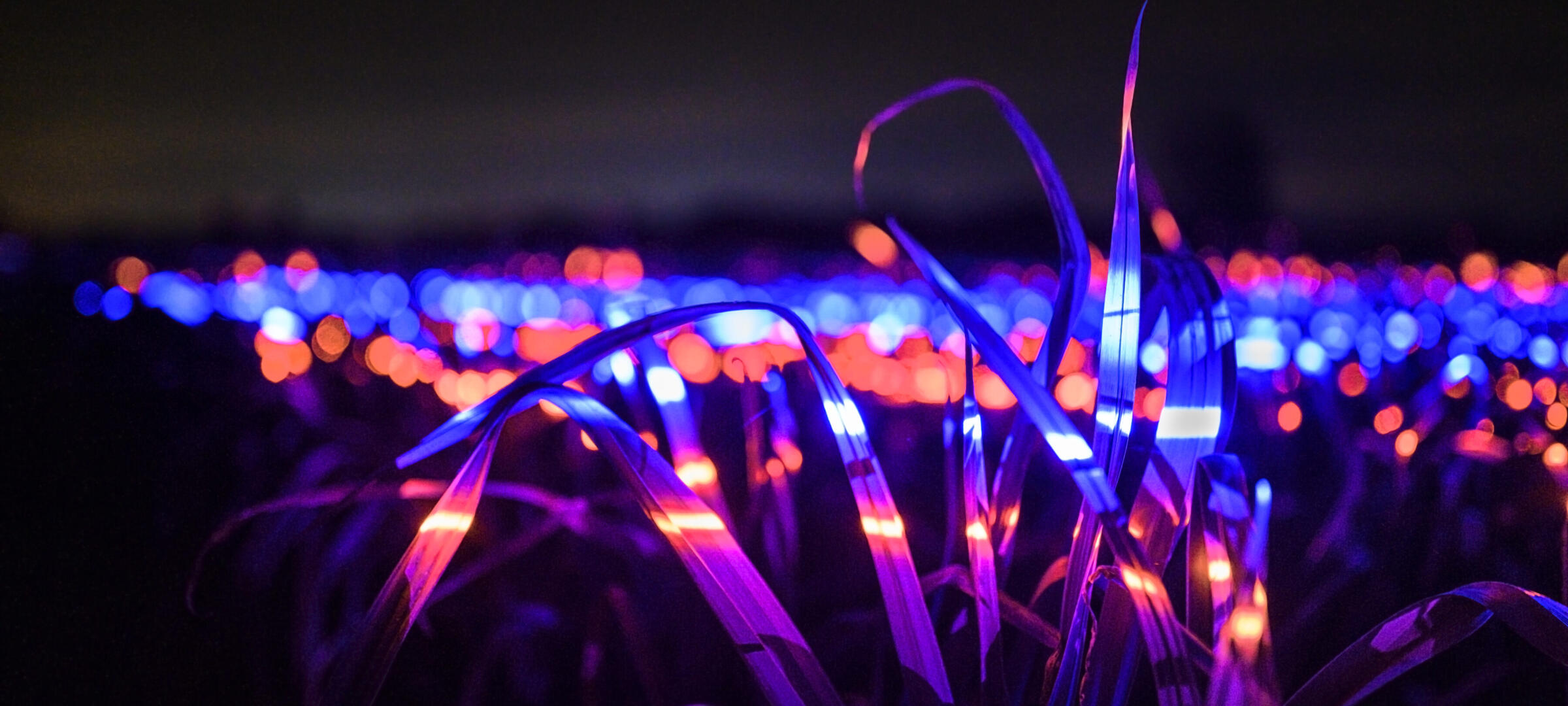 Dutch artist Daan Roosegaarde highlights farmers' unsung work with an award-winning light art installation that also enhances crop growth.
Comprising multiple rows of solar-powered red, blue and ultraviolet lights positioned around the perimeter of a five-acre leek field in Lelystad, the Netherlands, GROW turns on after sunset and runs for a few hours every night.
Roosegaarde told the Daily Churn he created GROW to emphasize the beauty of agriculture and rebuild connections for people to the origin of their food. The installation is based on the science of photobiology, which examines interactions between light and living organisms.
"I want to help people imagine the future," he says. "Beauty inspires people and helps us see the possibilities of a sustainable world."
GROW uses light "recipes" that are combinations of wavelengths and intensities of light specific to the needs of each plant, according to the artist. He adds that the research underpinning the piece is designed to accelerate crop growth while also reducing pesticide use.
Roosegaarde worked closely with Dr. Jason Wargent, founder of and Chief Science Officer at BioLumic, to create the installation. BioLumic is a New Zealand startup helping to pioneer the use of ultraviolet light for increasingly sustainable cultivation.
The science behind GROW is already powering the rapid expansion of indoor vertical farming, with Grand View Research analysts predicting annual increases in market size of more than 25 percent over the next seven years.

How lights help crops
The research shows that the quality and intensity of light on crops changes each plant's chemical properties, often resulting in plants naturally producing more of the compounds that repel pests as part of the plant's growing process. And if these changes occur on a large-enough scale, it could reduce the need for synthetic chemicals, says Veronica Justen, Professor of Crop Science at the University of River Falls, Wisconsin.
GROW's lights — which appear to move in waves across the fields as the wind stirs the plants' leaves — are approximately knee-high and beamed horizontally, helping to prevent light pollution for animals.
Helping plants photosynthesize more efficiently could help urban and vertical farmers save on energy and watering costs. A traditional greenhouse set-up requires significant amounts of energy to keep air at the ideal temperature, and large numbers of lights produce heat.
"Full spectrum light, such as sunlight, is great," says Justen. "But by applying a narrower spectrum of light specifically for the needs of each type of plant, the energy costs are reduced."
GROW uses the wavelength of light that is particularly helpful to leeks, the lower intensity of which results in lower ambient temperature too—so the soil is less likely to dry out. But how does this artistic project relate to day-to-day farming?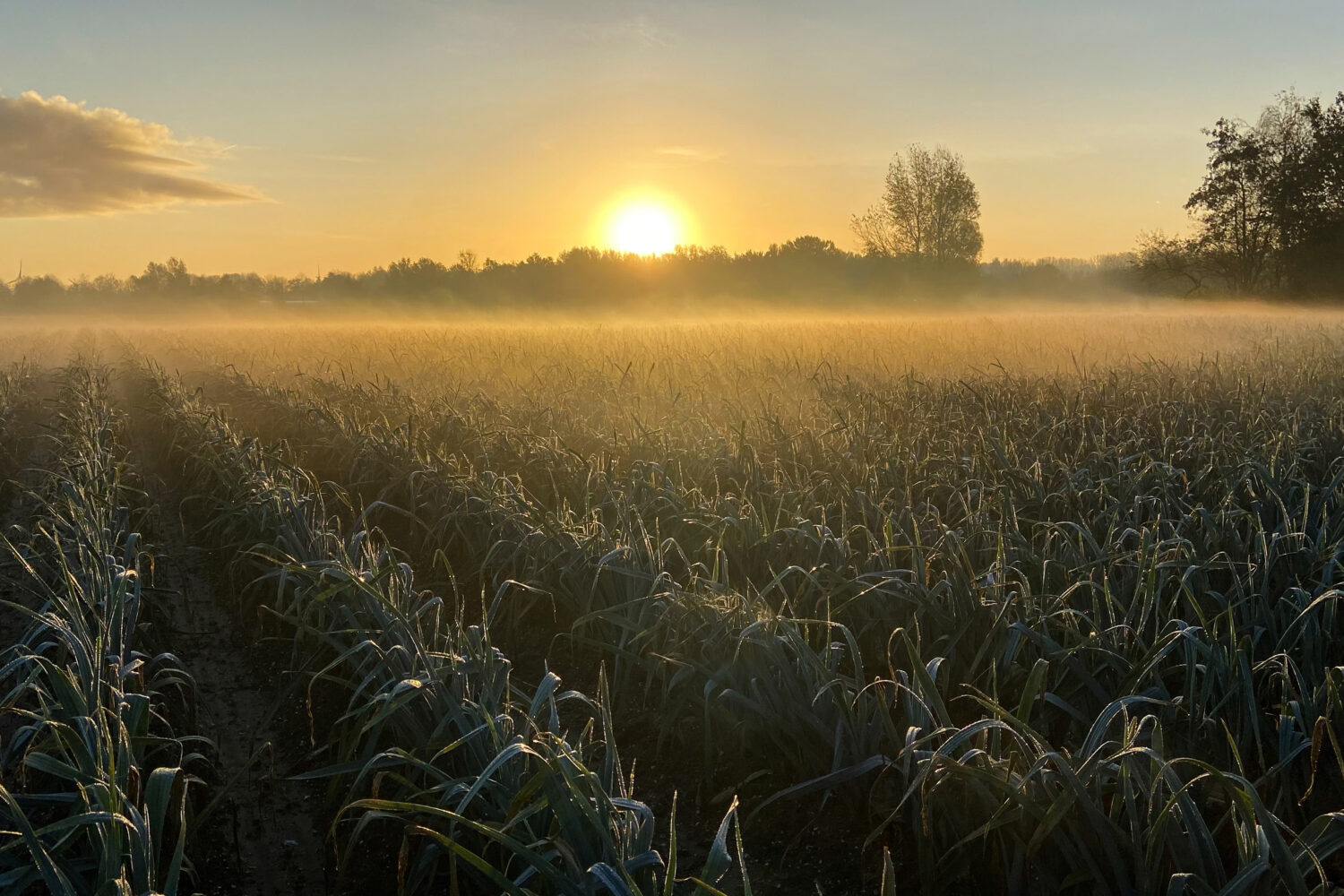 Radical art and agriculture
Many greenhouses and vertical farms already rely on red and blue light to maximize the efficiency of their crop cycles. BioLumic wants to add ultraviolet light as the next stage in the science's development.
With GROW, they are using ultraviolet light in a large-scale outdoor setting for the first time, largely thanks to Rabobank.
The multinational Dutch banking company challenged Roosegaarde to "be radical" as part of their artist-in-residence program. This isn't hard for the artist who pioneered other paradigm-shifting installations  like the Smog Free Project which vacuums pollution out of the air and turns it into jewelry, and Van Gogh Path, a twinkling bicycle path powered by the sun.
As with other projects, Roosegaarde's installation is compelled by a larger vision.
"We are so disconnected from how the fields feed us," he told us. "I want to use beauty to show the future of agriculture, the future of our food."
One path to the future of farming might be via BioLumic's approach.
Commercial applications of photobiology
The company treats seeds and seedlings with a UV light recipe specific to each plants' optimal growing conditions, Wargent told The Guardian.
"Once exposed to that burst of radiation," he says, "the knock-on effects will last the plant's lifetime."
After the initial exposure to a plant-specific light recipe, the seed will be programmed to more easily and quickly take advantage of the light it experiences once it is planted.
Two well-established light science applications already in use by conventional farmers are plastic mulches and shade cloths. They are built to withstand the vagaries of weather while managing the strength and color of light absorbed by plants.
Plastic mulches are multilayer films that provide different benefits depending on their color. Examples include yellow films that attract moths, reflective films that discourage pests, opaque black films that reduce fluctuations in soil temperatures and transparent films that help retain heat.
That said, while they can help growers, they also add another layer of environmental responsibility since they must be properly disposed of to avoid creating pollution.
Shade cloths provide similar assistance in orchards and elsewhere by filtering light for certain colors, deterring insects and protecting plants from hail. Sustainable growing company Ginegar says that their agricultural growing nets can reduce the use of pesticide by up to 50 percent.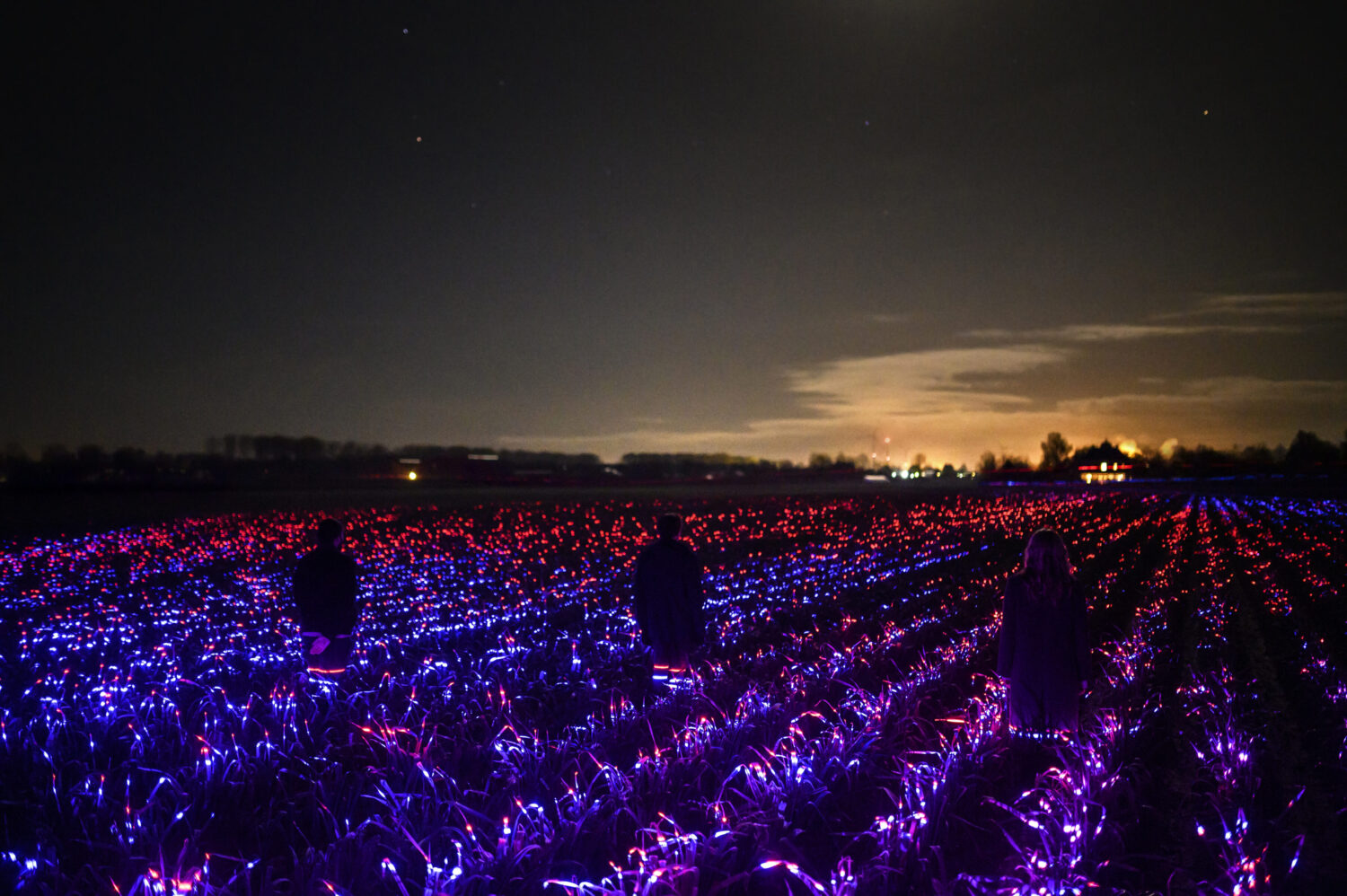 Making a difference
Using fewer chemicals could be a positive selling point for farmers, especially as the Food and Agriculture Organization of the United Nations reports continued growth in organic food sales.
Research published this year by the organization states that in 2019, US sales of organic food and drink exceeded USD 55 billion. The trend appears to be moving upward, with 2020 sales of organic fruits and vegetables averaging an 18 percent year-on-year growth.
Light science's role in the growth of this market could come in the form of denser nutrient values within a variety of foodstuffs.
Signify Research light recipe specialist Dr. Celine C.S. Nicole said that connecting plant science research with human food nutrition research will enable further innovation. This supports Roosegarde's theory that innovation occurs when different worlds meet, and Roosegaarde is at the forefront of that effort.
"It's really exciting to see an artist interested in live plants, as opposed to still life," Justen says.
Scaling up light science
For large-scale outdoor use of light science, Roosegaarde says the next step is to conduct long-term tests of its efficacy: "We want it to become available to everyone."
For that level of accessibility to occur, the idea has to go from concept to commercial availability. As a first step, the Studio is planning an international tour of the GROW installation to introduce the idea to a global audience.
Part of the tour involves creating a tangible connection between the art and the local climate, agricultural practices and people. To do that, Roosegaarde and his team are working with farmers in a number of countries, including Australia, China and the United States, to develop light recipes specific to each region's crops.
GROW is the first in an unspecified number of artworks that Studio Roosegaarde is creating in its DreamScapes series – pieces that combine art and science to create real-world improvements.
By using art as a new lens with which to view agriculture, Roosegaarde provides opportunities to make change through dialogue and collaboration.
"I want people to see the possibility in the world."