The Daily Churn
June 2, 2021 | by Kristine Hansen
Can methane-zapping masks help cool down the planet?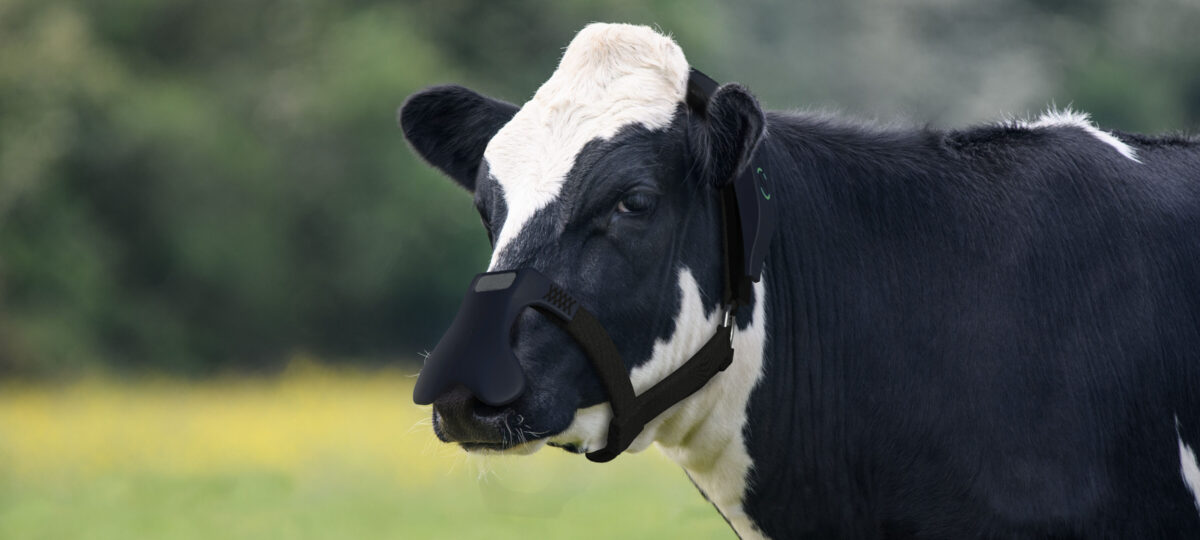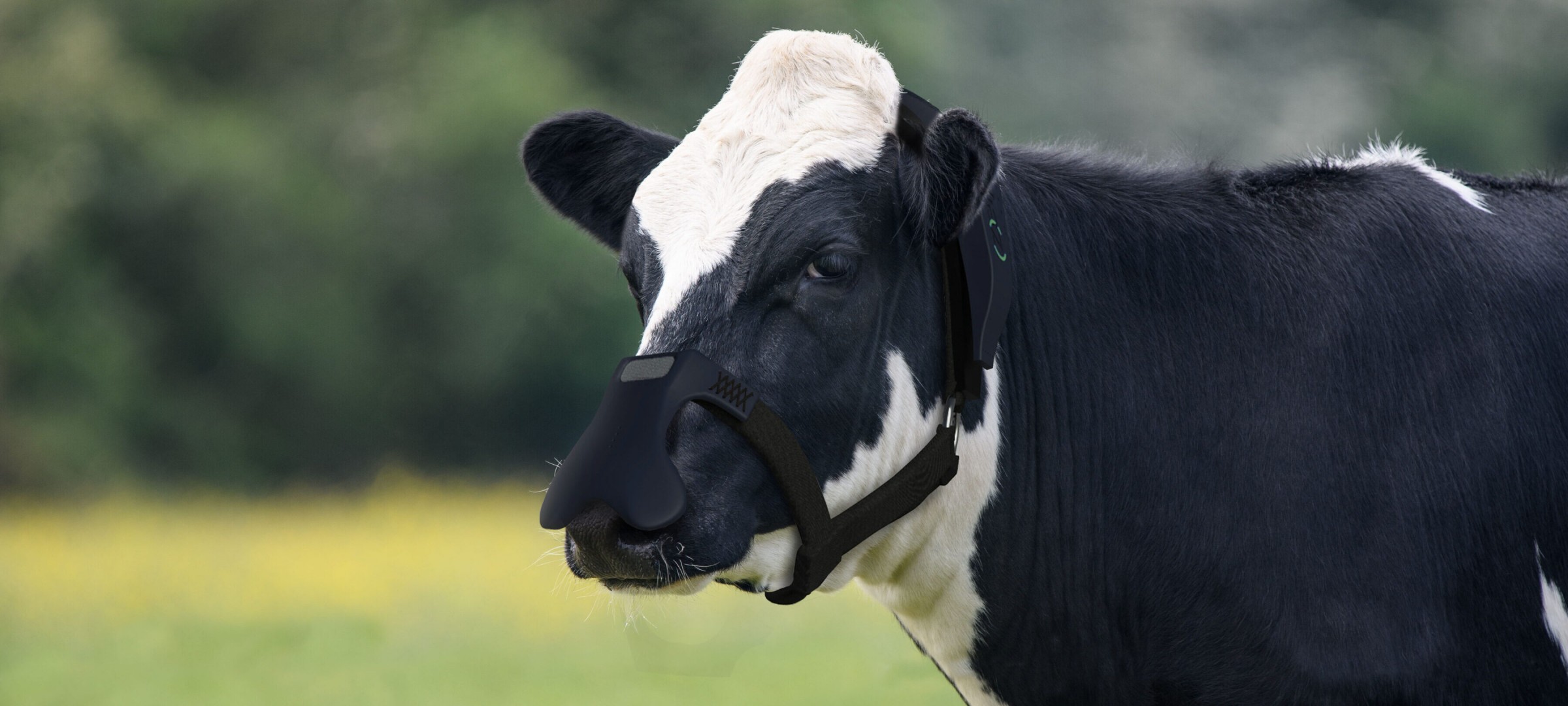 A London startup has designed new masks for cows — but not because of COVID-19. Instead, Zelp aims to help farmers "neutralize" the cows' methane emissions.
Compared to CO2 emissions — which Oxford University calls an "extremely long-lived gas" — methane is a "short-lived" climate pollutant that does not accumulate thanks to its relatively rapid natural removal from the atmosphere. But methane is also about 28 times more effective at trapping heat than CO2 from fossil fuels; any efforts to divert atmospheric methane can therefore have a relatively quick and meaningful cooling effect.
Zelp CEO and co-founder Francisco Norris, who comes from a family of farmers in Argentina, says beef and dairy consumption is expected to increase by 70% over the next 30 years. As consumption grows, he says, so will methane emissions. He is concerned it will be difficult to meet Paris Agreement goals without tackling cattle methane emissions.
That's why his company designed face masks—which cover just the nose, not the mouth—that zap methane when a ruminant animal releases the gas. How does it work? Norris says the masks detect, capture and oxidize methane emissions in real time, right after the animal exhales.
Neutralizing methane
"This process of oxidation turns methane to carbon dioxide and water," he adds, "which reduces global warming potential of methane significantly to less than 1.5% of its original value."
Norris says the company has put farmers' interests at the forefront of their technology so they can exact a premium for Zelp-wearing beef and dairy cattle. "This, we think, is a key point to ensure the uptake of the technology and unlock the huge environmental improvement it can bring."
But Frank Mitloehner, professor and air-quality extension specialist at UC Davis' Department of Animal Science, is not convinced the face mask design will work. "While I think, as a scientist, it's interesting as a concept," he says, "I'm not sure whether it will work in practice. These things will not stay in place. They will get dirty."
Cows engage in feeding, interactions with each other and the occasional scuffle. While he hasn't seen the mask, Mitloehner wonders whether the holders might come loose.
"I am very skeptical," he says. It's one thing to give a cow a Fitbit and measure her [being in] heat or measure her rumination, but these are collars you put around their neck."
"In the real world, he adds, "I don't know if it will work."
Made to last
Norris says Zelp is sure the masks will withstand on-farm usage throughout the animal's lifespan — in part because they have made multiple prototypes to address these potential issues.
"Early versions of our prototype were designed to be clipped around commercial copper rings, which made the installation process [on the animals] longer and more involved," says Norris.
"Currently, we are attaching our technology to fabric halters, which can be fitted rather quickly. The nose piece also changed from a durable hard plastic to a soft rubber-like material, which ensures it will bend out of the way without causing any disturbance to the animal."
While it's too soon to know for sure if the masks work, they could potentially help farmers in places like California, where Senate Bill 32 mandates 40% of methane reduction by 2030. To date, says Mitloehner, the state has seen a 25% reduction mostly by converting methane into renewable natural gas using methane digesters.
Through a "carrot approach" of incentivization, he says, farmers earn financial savings because they are relying less on a public or private utility. Instead, they either keep the natural gas for their own use or sell the surplus to utilities.
Climate neutral livestock
"That is the new Gold Rush in California right now," says Mitloehner. "It's not just being possible. It's already being done."
Work being done in California and elsewhere to mitigate methane emissions could have a global impact.
"If we manage to reduce methane, then we are pulling carbon out of the atmosphere and cause [sic] a global cooling effect," says Mitloehner.
"That is really exciting to me because it means farmers could become a solution provider in our overall farming world. Our livestock sector will become climate neutral. This is a drastic change in the narrative."
Mitloehner has conducted numerous research studies and trials with livestock to try to reduce methane. So far, a red seaweed variety called Asparagopsis armata, added to the cows' feed has been the most effective.
Reducing livestock emissions
But even this research breakthrough, published in the Journal of Cleaner Production in 2019 by senior author (and fellow UC Davis researcher Ermias Kebreab, professor and Sesnon Endowed Chair in the Department of Animal Science), faces challenges.
Kelp's flavor needs to be masked for cows to eat it; and—more importantly—the rare seaweed variety is sourced from New Zealand and Australia. "It grows in warm parts of the world, not the California coastline," says Mitloehner. Also, "we are not at the point where you can go to a feed store and buy a hundred pounds of feed additives."
For Norris, it all comes back to finding innovative solutions.
"In the face of the impending climate crisis we are living in," he says, "achieving a reduction in livestock's methane emissions is a crucial step in getting the goals set by the Paris Agreement to curb the threat of climate change."
The company will accept pre-orders for the $50 masks in early 2021 with product availability expected in 2022.